Being a single parent or a single mother puts a lot of responsibilities on one's shoulders. But the real challenge is to face off is with the parenting. As a single mother, parenting your kids get difficult every day. Single parenting needs dedication and effort to meet kids expectations. The responsibilities of a single parent cannot be shared as meeting the expenditure for satiating the family's need becomes crucial. Single parents have minimal time for taking care of their kids and to spun a stronger bond with them. A role model becomes essential to guide kids towards a better livelihood.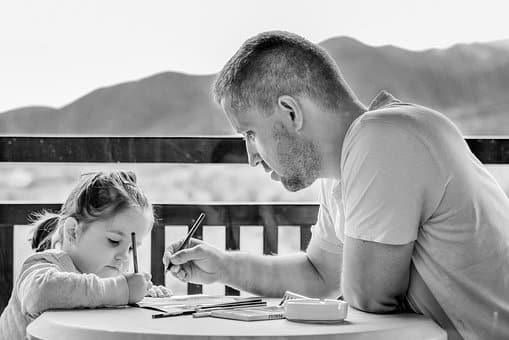 Why are single parents Worried about their Kids?
In the modern digital world, the threat is a step away. Kids engage themselves in online activities by spending a lot of time on the smart phones and being active on the social media can distract them from studies. The accessibility to online games like Blue Whale could turn life in danger for kids. Some teenagers use online dating websites like Tinder which are poorly encrypted. These websites share confidential data like images and other information with the third party websites exposing teenagers completely. Kids immaturity help Cyber predators to trap them in pornography and sex-ting. Single parents are always worried about a kid's smartphone addiction, Online safety and privacy, and their better future.
How TiSpy can help Single Parents?
TiSpy is most trusted and leading parental monitoring software available on the Internet today. The software is trusted worldwide as 4,70,000 children have been protected through TiSpy. The customers using TiSpy software were 95% satisfied with the overall experience. TiSpy parental control software help single parents to track an accurate location of their kids and avail other Tipsy features like social media track, control applications, call tracking, keystroke logging, monitor Internet usage, and much more. It is easy to use, and parents can check their kid's activity report on the TiSpy dashboard without them know. It is an ideal software for single parents to monitor their kids.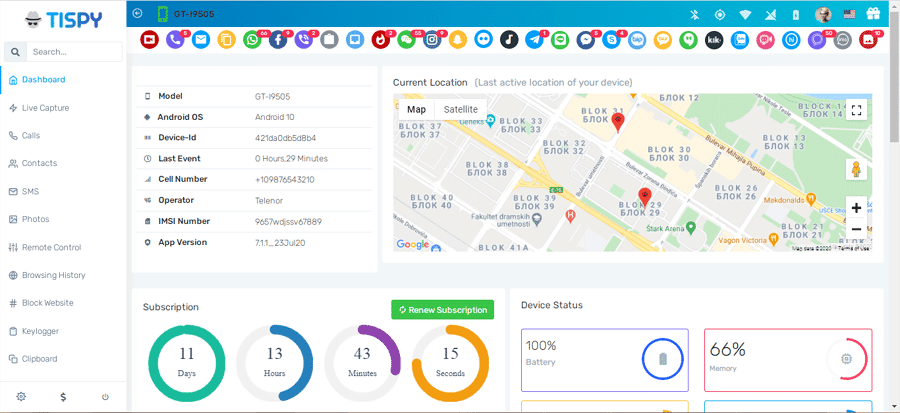 TiSpy Features
1) Social Media Monitoring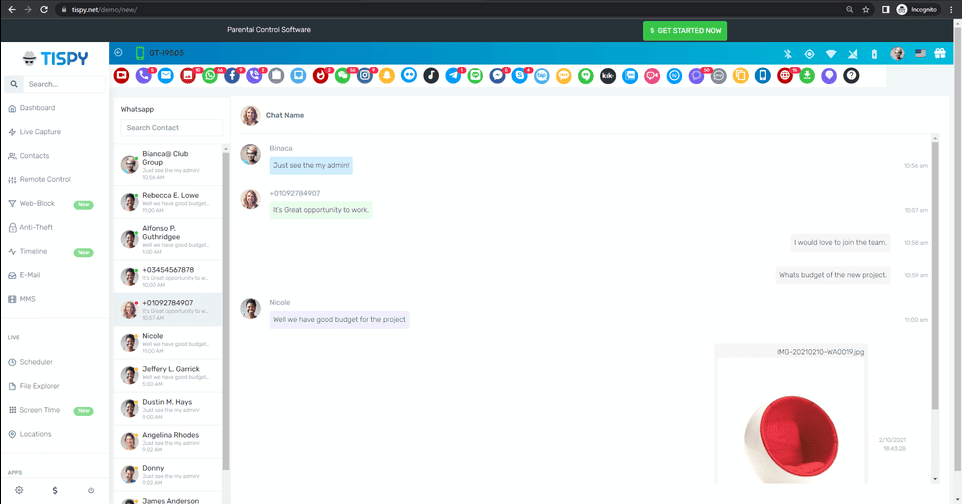 Social media trend has plagued teenagers with a reality that does not exist. The virtual popularity has filled filth in the minds which cannot be cleaned. Social media websites like Facebook, Twitter, Instagram, have caused collateral damage. Messengers like WhatsApp, Viber, Line, Hike, Skype, Hangout, Tinder, WeChat, and Kik can also get teenagers in trouble. TiSpy help single parents to supervise social media accounts and stores all the messages in user's dashboard.
2) Location tracking and Geo-Fencing and Live Feature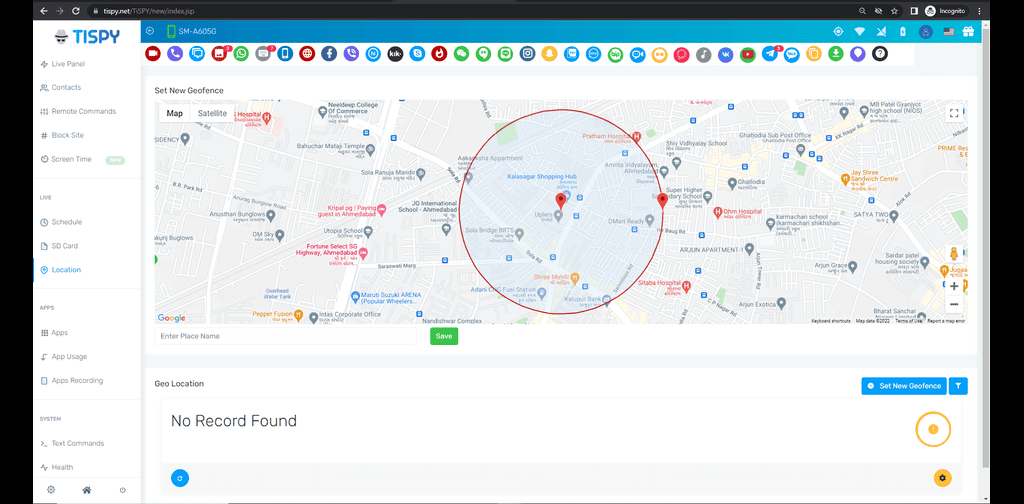 TiSpy uses GPS technology which makes it possible to track kid's location instantly. The advanced feature of the TiSpy software helps a single parent to track every move the kid. The Geo-fencing feature alerts suspicious location to single parents. Single parents are notified when kids arrive at their destinations. The live feature helps to draw a full path of the journey and saves all the visited locations. The live feature also helps to avoid phone theft.
3) Text message tracking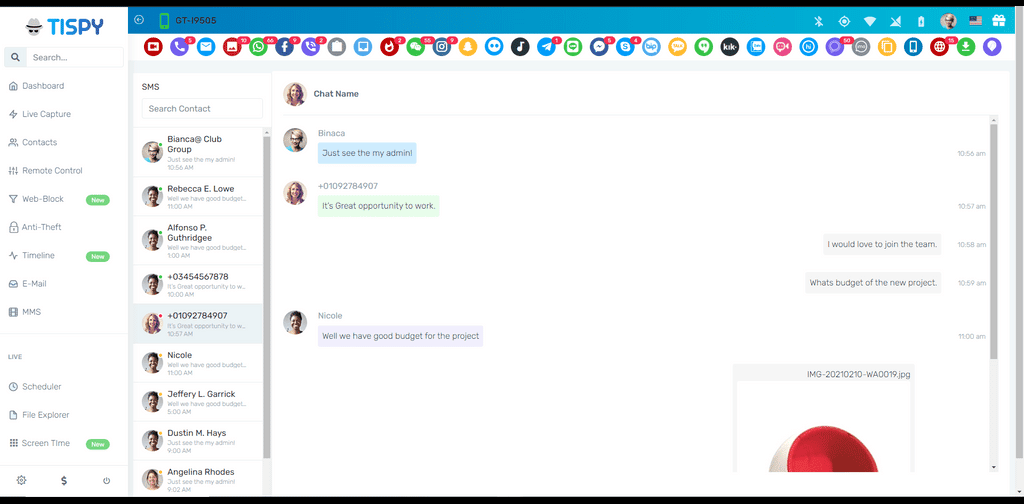 The TiSpy parental software let single parents track text messages and read all the send and received messages on the host's phone. All the messages get automatically saved on the user's dashboard which includes details like sender's number, receiver's number, date, time, and context of the message. The data also is sent to the registered email of the parent. A deleted message on the host's phone can be viewed on the user's tispy dashboard.
4) Monitor Internet usage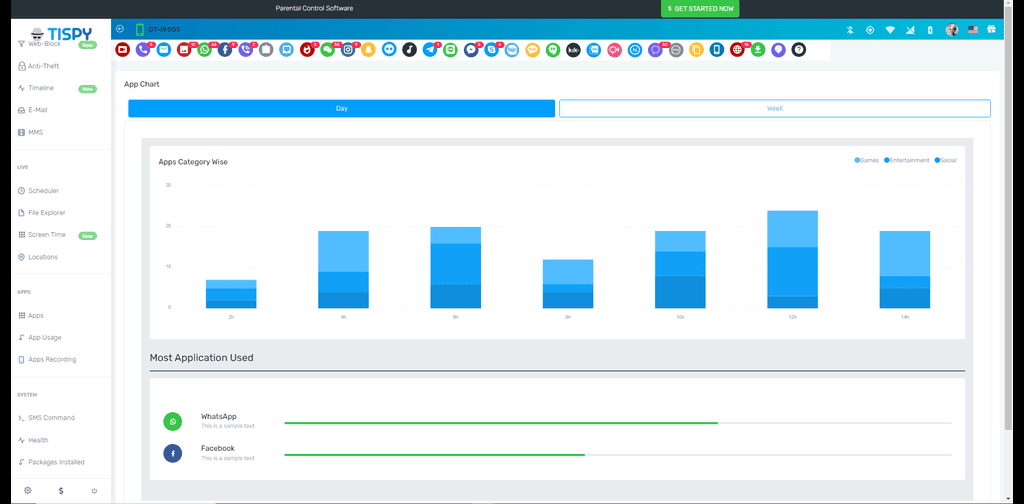 TiSpy software allows single parents to check recent URL logs. It keeps track of the URLs and websites which were accessed through the mobile browser. If the browser's cookies are deleted intentionally, it gets automatically saved by the parental software. It also records total time spent by the user on the Internet which is one of the prominent features of this software.
5) Control Application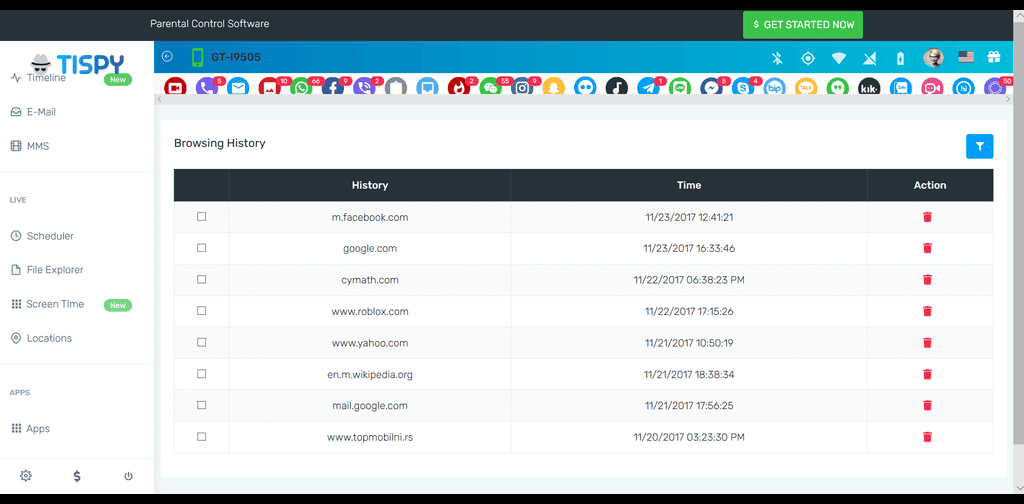 TiSpy let single parents know which software was used more often. It also detects applications installed from an unknown source and block them. It blocks background application trying to mine confidential data from the phone. Single parents can block a specific software or application. It also has advanced features like One-click access, Email Alert with Summary, Specific Location, and Alert on Sim Change.
6) Health Monitoring
Health monitoring feature activates safety feature for a single parent's kids. It helps to monitor the health of your child by tracking essential vitals like heartbeat rate, pulse check, and much more. It also shows how much a kid has worked and how many calories they have burnt while exercising or working out. The software work along with sensors if supported.
Conclusion:
TiSpy software is an essential software for a single parent. They can check on their kids being away from home. The parental software is a close substitute for the babysitter. In this present online generation, TiSpy can aid single parents to bring up their kids responsibly.
Smart measures to ensure safe device usage by your children.