Are you worried about your child's suspicious social media activities? You need to be fully aware of what's going on with your underage children in order to prevent any unnecessary harm coming to them. TiSPY does all the hardwork to give you all WhatsApp individual chats, group chats, multimedia with contacts and date-time stamps for chats directly to your TiSPY dashboard panel. TiSPY uploads captured data from different way https://youtu.be/ofo68JDwXzo
How to spy WhatsApp without Rooted device?
Whatsapp is a very popular social application today and millions of people are using it to communicate between each other. In there Teens, young adults, and even senior citizens are using whatsapp. You didn't need to have access to the target Android cellphone to spy WhatsApp. Capturing passwords and logins was also very easy. If you are worried about your children's behavior, then you can use TiSPY – Parental Monitoring Software to whatsapp spy.
You can remotely monitor whatsapp activities without the Target device user even realizing that his or her phone is being monitored.
Whatsapp has been known as an application with strong protection implemented in it, but TiSPY is a powerful spy application that cannot be detected by the security systems.
View chat history, Check group and personal chats, View videos, photos, documents and other shared files through whatsapp.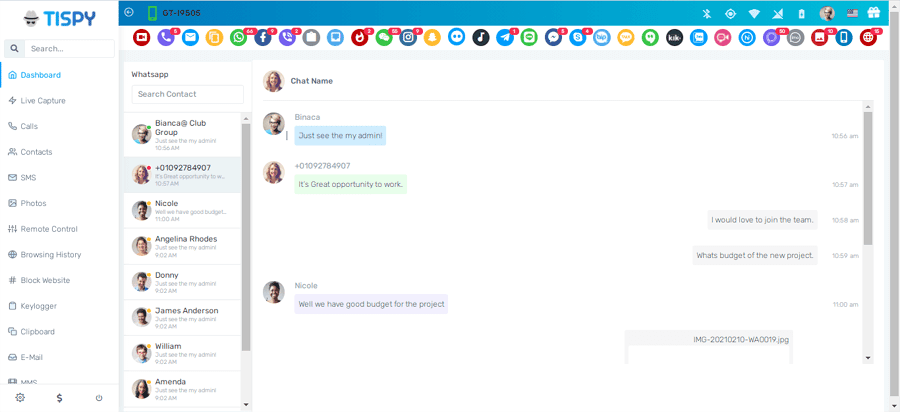 Only three steps to spy the WhatsApp Messages:
You need to physical access to the device to download and install TiSPY in phone.
After successfully install in device register with your credentials.
Login into your account here https://tispy.net/ – (With your Email id and password)
Determine more: Whatsapp Tracker | Facebook Tracker | Gmail Tracker | Skype Tracker | Viber Tracker | Line Tracker | KiK Tracker | Tinder Tracker | TelegramTracker | Kakao Tracker | WeChat Tracker | Hike Tracker | Hangouts Tracker
TiSPY gives you facility to:
WhatsApp FAQ
Can I see whatsapp incoming outgoing messages in non-rooted device?
Yes, You can see both incoming outgoing messages without root your target device.
You need to enable your target device accessibility.
Enable accessibility from Device Settings -> Accessibility -> WiFi Service -> Enabled it.
How can I track whatsapp chats remotely?
WhatsApp chats can be tracked remotely using TiSPY. The app requires a one-time installation on the device you want to monitor.
After that, you can remotely track all WhatsApp chats, WhatsApp audio files. Alternatively, you can also remotely spy on WhatsApp chats without rooted your target CellPhone.
How to see whatsapp documents/PDF/Images/Videos on phone without touching the phone?
TiSPY – Whatsapp spy App gives you options to fetch files sent or received using Whatsapp or any other social media app.
It is tricky but very simple to get that. On TiSPY dashboard Click on "SD Card" or "File Explorer".
You get complete access to the phone's memory to you. You have to locate Whatsapp or other social media directory.
WhatsApp data not uploading?
Tipsy can not capture WhatsApp data if there are more then one Wifi services installed in the target device
Follow below steps in target device:
(1) Go to Settings >>Accessibility >>Check how many Wifi services are there?
(2)Enable Last Wifi service in the List & Disable all other Wifi services.
WhatsApp issue fixed.
Now you can monitor incoming and outgoing whatsapp and facebook messages without root.
Follow below steps.
1. Install/Re-Install latest TiSPY application on your phone. Refer installation guide at http://goo.gl/gJKIYW
2. Give Accessibility permission on your monitoring device -> Device Settings -> Accessibility -> WiFi Service -> Enable it.
If you are not getting option Accessibility in Settings then
Tap "Home" button three times for accessibility feature on in Settings > Accessibility >Enable.
Contact us at support@tispy.net for further assistance.
Awesome product features into single app
Over 1000+ satisfied users
say about us

"It is really a best option for the parents that can prevent their childs from wrong companiens.i like it and really it is meracle software"

"It is nice and useful application in today smart world."

"The best app ever for the phones without root!!!! 10000000..00000 stars!!!!"