Monitor Kakao Talk (Beta Version)
As of May 2017, KakaoTalk had 220 million registered and 49 million monthly active users. It is available in 15 languages. The app is also used by 93% of smartphone owners in South Korea, where it is the number one messaging app.
KakaoTalk is also used as a social networking tool, as a means to meet new people and to chat. It has features that allow you to search for people using their names, their numbers and their email account. Our kids and teens spend the majority of their time online and chatting with friends.
A KakaoTalk feature called Plus Friend allows users to follow their favorite celebrities and brands, and also provides users with real-time info through the app's chat rooms, including exclusive messages and coupons for various products. You can also use TiSPY application block feature for block installed application so that your children take away like this social media application.
It has been increasingly popular among teenagers and young adults for its prompt and interesting features. You can easily find that teenagers use KakaoTalk chatting with friends everywhere, even in class. with a large number of interesting stickers, KakaoTalk attracts an increasing number of teenagers. TiSPY will help you monitor on all your child's activity on Kakao Talk on their android cellphone.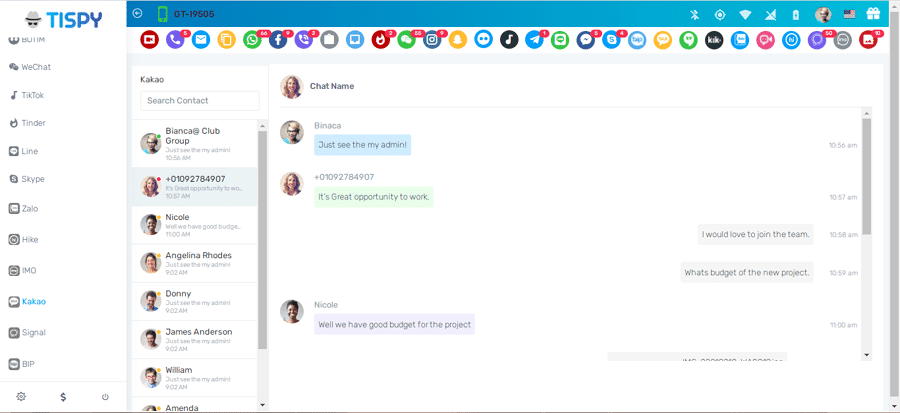 View all Kakao Talk messages including group chats, conversation times and dates
You can use TiSPY to block the Kakao Talk so that your children can pay more attention to their study.
Protect your children from sexual predators, cyber bullies and risky behavior
Awesome product features into single app
Over 1000+ satisfied users
say about us

"It is really a best option for the parents that can prevent their childs from wrong companiens.i like it and really it is meracle software"

"It is nice and useful application in today smart world."

"The best app ever for the phones without root!!!! 10000000..00000 stars!!!!"