Viber Tracker
Viber is among the most popular apps right now so all parents need to familiarize themselves with it if they are to protect their kids. Viber is an app for phones and other mobile devices which allows both text messaging and voice calls to be made using either WiFi or the data plan attached to the device.
Only SMS and call monitoring will not give you satisfied results of your child's mobile activity. You need a monitoring software to monitor popular IMs like Viber which is at the top in the list of popular and most used IMs. TiSPY introduces powerful Viber tracking feature which gives all viber activities at a glance.
Do you feel left behind because your kids are using all these messengers? Do you want to throw all your worries and just want to make an eye on your child's chat no matter which chat messenger they are trying to use? Do you think of getting all these data at one place? If yes then TiSPY is perfect choice for you. With TiSPY, you can remotely check all the Viber chats and data of your children's device directly to your TiSPY dashboard.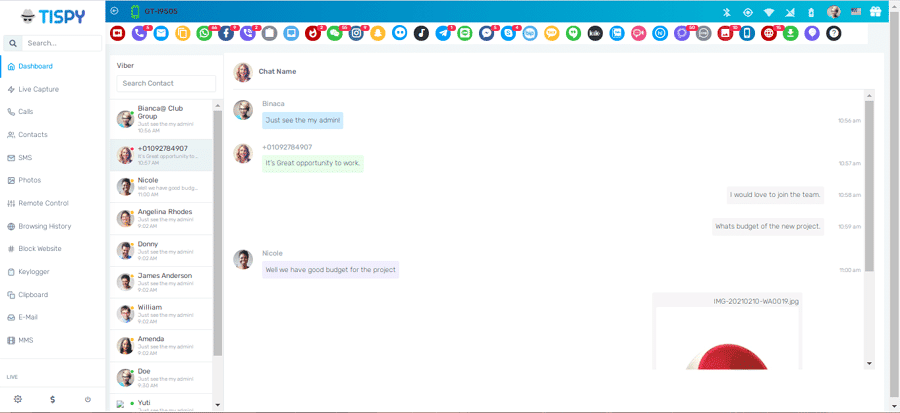 Viber is open to public and toll-free. That's why anyone can use it to contact your kid.
In any case, we have to exert strict parental control in spite of any technical or financial difficulties.
It also pays to read up on chat acronyms and teenage slang so that once you have intercepted the messages you will actually be able to decipher them.
Your child might be exposed to sexhibition via exchanging photo and video files.
[faq group=viber-tracker style="accordion"]
Awesome product features into single app
Over 1000+ satisfied users
say about us

"It is really a best option for the parents that can prevent their childs from wrong companiens.i like it and really it is meracle software"

"It is nice and useful application in today smart world."

"The best app ever for the phones without root!!!! 10000000..00000 stars!!!!"