Call Log Tracking
TiSPY call log feature enables you to see complete history of all calls from target device like incoming and outgoing, including phone numbers, contact names and many more.
Manage and view missed calls
View all call logs of target device
View date and time of calls
Download all call recording files
Although you may be recording calls but having access to the phone's call logs ensures exactly with whom user of target device interact. Do you want to know about long phone conversation of your child? Do you interested in getting details about each and every call of your child? With TiSPY you will never miss single call from your target device. As a parents you have rights to know these details of your children and loved ones.
Now that we know where you could use it, let's begin this tutorial on how to record calls on your android cell phone.
Step 1: Install TiSPY
Recording a phone call on someone else's phone is the tricky bit. This is where TiSPY comes in. It enables you to listen to your target phone's conversations remotely. We have get a lot of calls from concerned parents and this is the feature we usually recommend because it lets them know who their kids have been talking to and what the nature of their conversation is.
So to download TiSPY, head over to the home page and click on "Buy Now" to land on the purchase platform.
For a complete guide of the installation check out our Install guide page. It should also help you with the initial orientation.
Step 2: Check Requirements
For the call recording feature to work, you need to check your phones requirements and compatibility. Currently, this feature is supported on all Android phones. You can check your phone's compatibility here. TiSPY works on most Android phones and versions, but you can still run a query to be sure.
We have received a few rather agitated complains from users that talk about their recordings turning up one sided. This is the issue with a lot of Android devices and comes with the firmware settings. The built in settings cause the mic to be disabled when a call is received, causing the recording to turn up one-sided. Every phone has a customer firmware setting, thus unfortunately I cannot provide a general solution to this problem.
Step 3: Check Control Panel
Once you've installed TiSPY, go to the control panel. You'll arrive at the dashboard.
This will give you a summary of all the incoming and outgoing calls as well as text messages. This will also provide you with the phone call related stats based on previous data before you start spying with the mobile phone monitor in real time.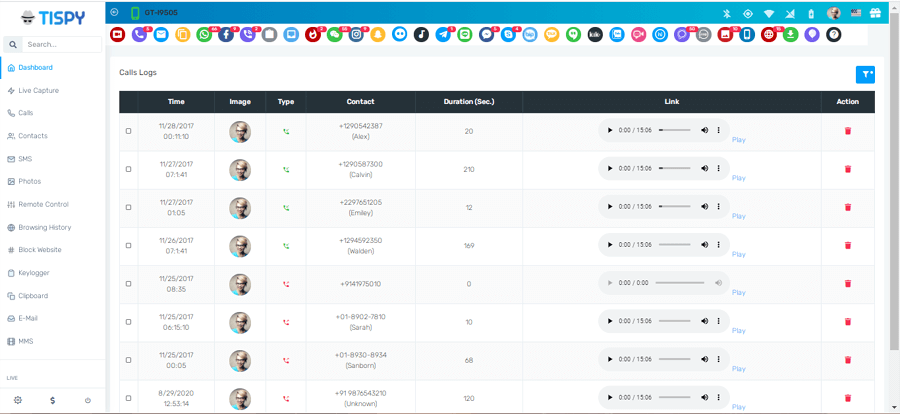 Determine more: Call Tracker | View Date and Time of Calls
TiSPY gives you facility to:
Call Track FAQ
Can we track phone numbers or only phones?
Monitoring is done on phone. So the SIM/Chip inserted on target phone will be monitored by the app.
How to solve call recording issue?
There are too many phones available in market. Their firmwares also vary. To make call tapping work for most of them, our technical team continuously keep improving the app. You can change the settings from TiSPY dashboard settings. After you change one setting, keep it for atlease 2-4 hours and check newer recordings. Below is best adopted setting.
You need to try below settings:
(1) Call Recording Codec: AMR
(2) Call Recording Source: Default
(3) Call Recording Delay: 3 seconds
(4) Recording Sample Rate: 8000
We can see only call logs or its also download?
Yes,You can download all call logs.You can download it from the data liberation page.
What you see in your call logs?
TiSPY call log feature enables you to see complete history of all calls from target device like incoming and outgoing, including phone numbers, contact names and many more.
Awesome product features into single app
Over 1000+ satisfied users
say about us

"It is really a best option for the parents that can prevent their childs from wrong companiens.i like it and really it is meracle software"

"It is nice and useful application in today smart world."

"The best app ever for the phones without root!!!! 10000000..00000 stars!!!!"