Parents are constantly worried when their kids use their mobile phones in excess. Chances are that children might interact with dangerous people without their knowledge. The Call Tracker feature helps parents with the call log details of their kids. The latest features included in some parental tracking apps ensure 100% secure monitoring services.
What Problems Does A Call Tracker App Solve?
A call tracker app solves several problems related to call monitoring and management. It allows users to keep track of incoming and outgoing calls, providing insights into call duration, timestamps, and contact information. This feature is beneficial for parents concerned about their children's communication, employers monitoring employee phone usage, or individuals wanting to keep a record of their call history. Call tracker apps offer convenience, security, and the ability to manage and analyze call data effectively.
1. Save a Child from Spam Calls
Kids are more exposed to a drastic rise in spam and fraud calls. Fraudsters are finding new ways to bluff, and children are the biggest victims. Spam calls can harm children in many ways. Call tracker apps help the parents to take care of this problem. A call tracker online app helps save a child from spam calls by allowing parents to monitor and block unwanted or suspicious numbers, ensuring their safety and peace of mind.
2. Aware Kids about the Type of Spam Calls
Call log monitoring feature is a great help to kids and parents. It helps the kids and teens in taking a call if the caller is someone known. Young kids are immature and cannot make the right decisions for themselves. It is wise that the parents monitor any doubtful calls. In such situations, the caller may not be what they claim and might trick the kids. A call tracker app helps parents educate kids about the types of spam calls, enabling them to identify and avoid potential scams or fraudulent activities.
3. Keep Track of Your Kid's Call Conversations
To protect kids from any dangerous situations, parents must know who calls them often. Children are victims of scamsters through phone calls and messages. Parents use a call tracking app to track incoming and outgoing calls details. The feature gives them control of their child's call activities. A call history check online app allows parents to keep track of their kid's call conversations, ensuring their safety, monitoring communication, and fostering open dialogue.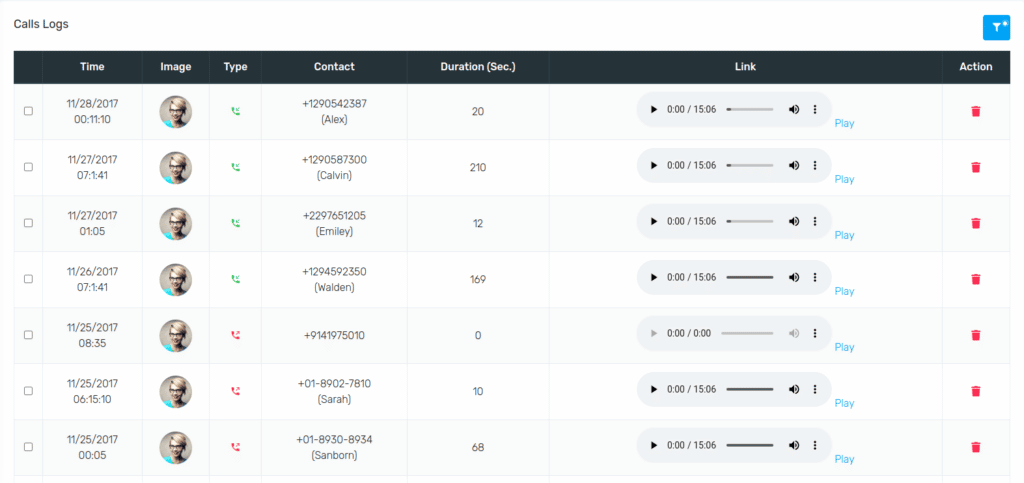 TiSPY Call Tracker App Features
TiSPY, a comprehensive parental control app, offers an array of powerful call-tracking features. With TiSPY, parents can view call logs, including incoming and outgoing calls, along with timestamps and contact details. The app also allows users to block unwanted or suspicious numbers. Furthermore, TiSPY provides call recording capabilities, enabling parents to listen to call conversations. These features help parents monitor and manage their child's call activities, ensuring their safety and promoting responsible phone usage.
1. Track Incoming Calls
TiSPY has an incoming call tracking feature that helps to keep an eye on the call history. It helps parents to know with whom their child interacts. It is vital to monitor incoming calls and do a call history check online. This feature is useful as it helps to manage kids' security. Parents can monitor the target devices' movement by using such apps. TiSPY'S call history tracker app feature allows users to track incoming calls, providing details such as caller identification and timestamps for monitoring and analysis.
2. View Whom They Called
The tracking feature on TiSPY helps to track the call history of mobile numbers online. Parents can track their child's conversations without them knowing. The online activity tracker on TiSPY accesses chat conversations. It provides a detailed call history of all calls. The feature allows parents to monitor the conversation in which children are involved. This helps them stay safe online. With TiSPY's track mobile number call details feature, users can easily view whom the target device has called, providing insights into their call history and contacts.
3. Detailed Timestamp and Duration
TiSPY helps parents conveniently access all the information. The dashboard provided by TiSPY keeps a record of timestamps of their kid's calls. It is an imperative feature. Call timestamping data helps to keep a check on kids' activities. It gives information about the chat times. Timestamping is a great feature to monitor target devices anywhere, anytime. TiSPY's call list tracker app feature provides detailed timestamps and call durations, allowing users to analyze communication patterns and durations effectively.
4. Block Calls From Unwanted Numbers
The feature in a cellphone tracking device gives 100% accurate information. It also helps to immediately block unwanted callers in the target device. The feature is vital for parents who want to ensure the safety of their kids online. The app should have high performance. Call blocking is a crucial requirement to ensure kids' safety. TiSPY's call tracker app feature empowers users to block calls from unwanted numbers, ensuring a safer and more controlled calling experience.
5. Hear Recorded Calls and Filter by Date & Time of Calls
The timestamping and call record feature in the call tracker helps to keep a record of calls and chats. Call recording is a highly effective feature as it keeps a check on the kid's activities. It gives an idea of whom kids talk to and gives an idea of the activity of the target device. Call recording is a good feature that is useful for getting call details. TiSPY's call tracker app feature allows users to hear recorded calls and conveniently filter them by date and time for easy access and organization.
6. View Contact List
The call tracker features include the view contact list option. This is a great feature that helps parents to add a layer of security. The view contact list feature helps parents to monitor their contacts. They know who all their kids are in touch with on WhatsApp chat. TiSPY's call tracker app feature enables users to view the contact list of the target device, providing insights into their saved contacts.
7. Able to Download the Call Recordings
The tracking feature includes the ability to download call recordings. With such apps, you can monitor the conversations of the target. To spy on the calls of the target users, all you need to do is download TiSPY. TiSPY users can track the call logs with conversations on kids' phones. With TiSPY's call tracker app feature, users can download call recordings, allowing for offline access and archiving.
How to Install TiSPY Call Tracker?
A prerequisite for downloading the TiSPY Call tracker for android is the availability of Android OS 4.4 and above. Below are the steps for installing the TiSPY call tracker:
1. Open the "Play Store" application on your android phone
2. Go to Menu
3. Off the Play Protect
4. Disable "Scan device for security threats"
5. Disable Anti-Virus
6. Disable "Scan before Installing" in security section
Steps to install TiSPY Call tracker app in iOS device, you can also check install guide –
1. Login or Sign up in your TiSPY account.
2. Connect laptop with iOS device with the help of cable
3. Then add a device.
4. Select a specific target device to monitor.
Awesome product features into single app

You can read any message that was received by or sent from the phone. The messages are logged into your TiSPY account as they...

TiSPY dashboard will allow you to view each and every image phone camera has captured. Many users uses TiSPY as their...

Do you know which application is most used in your phone? TiSPY list all installed applications on phone. It also shows which...

CALENDAR EVENTS TRACKING
TiSPY tracks each and every calendar activity entered into the device which can be showed into Calendar List. TiSPY client

Now you can monitor all texts, copied by your child. Example your child copying a message and send it to some one else. Or...
Over 1000+ satisfied users say about us
It is really a best option for the parents that can prevent their childs from wrong companiens.i like it and really it is meracle software
It is nice and useful application in today smart world.
The best app ever for the phones without root!!!! 10000000..00000 stars!!!!
Best ever does the job a detective without losing thousands. thanks!!!!!
It is nice and useful application in today smart world.
Great app. Good price. I found and choosed over other apps..
Awesome,better than I thought possible. The service works great on my Samsung galaxy 2.
This really helps when trying to keep up with our kids. Thank you!
So far so good. This app is just what I've been looking for. Website is easy to set up. It should start up hidden and then if you want it shown you can do so.
Great software, would love a reward for being a long time user..
awesome & !!! very good app i was really looking for this kind of app. thanks. thanks to creator of such a good kind of app..
Its a cool app. Does everything it says without degrade phone performance.
Thank you for this product, it's the best in the market. And I have a question, do you have the same program for Iphone? if you have that's be perfect.. Thanks guys good job.
I love this program. I give thanks to all of the tech. wonderful job
Best tracking app ever I found on net till now. keep it up guys..
Amazing app and service, satisfied with the technical support..
Great software, I feel like my child is safer. It is nice and useful application in today's smart world.
Very Satisfied. The best to monitor your kids and loved ones. Highly recommended
"Working with @tispy is like having a family member who can fix everything!"
Great Software..Must for every parents who really want to take care of their children.
Wonderful product. Gained lot of confident on the Family members. Thanks
"Their customer support was @amazing. Their help was quick and gave me very clear instructions to follow. Incredible theme."