Phone Call Tracking
Unknown callers or known ones, it is important to keep a check on with whom is your child interacting. TiSPY makes phone call tracking convenient. You can track call logs of the target device, listen to the conversation, manage calls, view incoming and outgoing call details.
Why is there a need to monitor call logs of your child?
Calls are the easiest way for predators and evil elements to make someone victim of their ill intentions. Phone call tracking allows parents to be informed about the interaction their child is involved in. Call log tracking helps parents to ensure their kids' safety from any of the evil elements.
What You Can Leverage From TiSpy Call Tracker?
View call history:
TiSpy aids parents to monitor their child's call history and the people they are interacting with.
Check call duration:
With the call log tracking feature of TiSpy parents can monitor the call duration of calls, record calls, and listen to the conversations their child is involved in. This feature will help parents to ensure their child's safety.
Discover contact details:
The phone call tracking software lets parents monitor the contact details like email, contact no, address, or other saved information on their child's phone.
Track call logs:
With TiSpy parents can monitor the incoming and outgoing calls, call history of specific numbers, timestamp, and duration of the call.
How Does Tispy Phone Call Tracker Works?
TiSPY provides easy-to-use phone call tracking software. This helps parents to monitor their kids' call history and the nature of conversation they are involved in. Parents can track call logs in the following easy steps:
STEP 1    Install TiSPY:
Go to the Home Page and select 'Buy Now'  to go to the payment page.
STEP 2  Check Compatibility:
The call tracking software is compatible with all android phones. The compatibility of phone can be checked here. Make sure the firewall settings are configured according to the software before buying.
STEP 3   Check Control Panel
:
Once installed, you can get access to your dashboard  you can get all the tracking information there on the dashboard.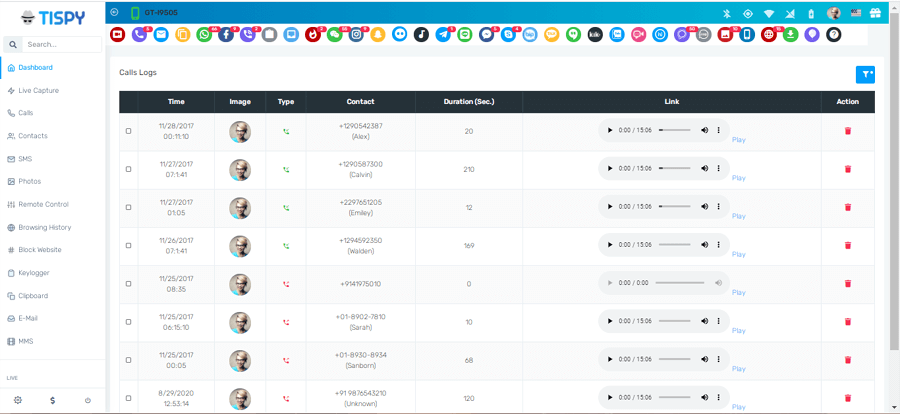 Awesome product features into single app
Call Track FAQ
Can I backup my call logs?
Yes, you can backup all call logs by call log tracking software, TiSPY. Just install the software on your device and you will never lose the call log data.
How can I track a call?
You can track a call by using a call tracking software like TiSPY. It allows you to record calls, access the call history, details of the caller, and time stamp of the calls.
How does call tracking works?
The call tracking software when installed in the kid's phone takes all the information from that device and brings it to the parent's dashboard that is provided by the call tracking software like TiSPY. TiSpy provides reliable and accurate information and is convenient in use for parents.
Is it possible to get someone's call history?
Yes, it is possible to get someone's call history. The phone call tracking software like TiSpy, when installed brings the call history information and details of the caller to your dashboard.
Over 1000+ satisfied users
say about us

"It is really a best option for the parents that can prevent their childs from wrong companiens.i like it and really it is meracle software"

"It is nice and useful application in today smart world."

"The best app ever for the phones without root!!!! 10000000..00000 stars!!!!"