Web History Tracker
You need to know whether the websites your children visiting are safe or not because most of the children view pornographic content online at least twice a week. TiSPY helps you to track all web history from target phone's web browser.
Over 1000+ satisfied users
say about us
Do you know internet is full of good and bad things. There are various kind of harmful content and videos available on internet. Do you want your child to stay away from this type of contents? You have to keep an eye on what websites they are visiting. With TiSPY, you can remotely check web browsing history on their phones. TiPSY will ensure you for your child safety.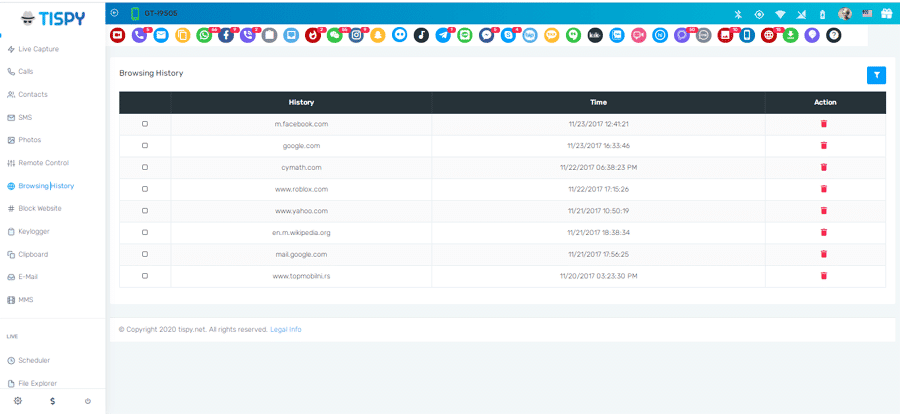 Web History Tracker FAQ
can i manage safe websites?
At TiSPY dashboard, there is a section where you can configure safe websites. If you have listed approved sites, only those sites will be accessible. All other websites will be blocked.
Can I restrict websites?
If you want to block porn/adult sites, you can block them by putting those in blocked sites list.
Does this features work without root?
Yes, All features ( website history, allowing websites and blocking websites ) will work fine. You do not require to root the phone. They work fine without root.
How to capture web history with TiSPY
Know which websites accessed throughout the day.
Using capture Web history Know which sites accessed by your child With the TiSPY view browser history:
1. Look through the websites the target user has visited.
2. See each URL that has been visited.
3. Find out the number of times the target user has visited each website.
4. Get time and date stamps so you can know when each website was visited.
Why I can not view accessed website history?
Make sure you have done below configurations properly.
For web history capture, enable accessibility service from your device Settings -> Accessibility -> WiFi Service. If you are talking about site blocking you should have link to demo dashboard page
Awesome product features into single app

"It is really a best option for the parents that can prevent their childs from wrong companiens.i like it and really it is meracle software"

"It is nice and useful application in today smart world."

"The best app ever for the phones without root!!!! 10000000..00000 stars!!!!"