Is your child constantly texting someone?
Do you know online predators use text messages to reach juveniles to fulfill their ill intentions?
With TiSPY, SMS tracker software tracks your child's text messages and gets relieved from the worries of their safety. TiSPY helps you rack the text messages with real-time updates and details of the person with who your child is chatting.
Why is There a Need to Track the SMS of Your Child's Phone?
Young kids are constantly seen texting through their phones. Parents have less or no knowledge about the people their child is texting with. The kids might be talking to strangers who are potential threats and can attack kids with their ill intention. A text message tracker like TiSPY, helps parents to track the nature of text messages and with people their child is involved texting with. In today's digital world, tracking the SMS of your child's phone is essential for their safety. You can refrain your kids from becoming victims of cyber bullying, or exposure to inappropriate content. By monitoring their text messages, you can intervene promptly, address concerns, and protect your child from potential risks and dangers lurking in their virtual interactions.
Benefits of Using TiSPY SMS Tracker App
The TiSPY SMS tracker app offers a range of benefits for effective monitoring. With this app, you can track and analyze SMS conversations, ensuring your child's safety and well-being. Stay informed about their communication, detect potential risks, and take timely action to protect them from online dangers.
1. Read Send and Receive Messages
With TiSPY, you can read all the sent and received messages on their child's phone without them knowing. The TiSPY SMS tracker app allows users to read, send, and receive messages on the target device. For example, parents can monitor their child's conversations, ensuring open communication and identifying any potential risks or concerns in their messaging activities.
2. Monitor Text Inbox Remotely
TiSPY allows you to track your kid's inbox to see who they are texting on a regular basis. This can be accessed remotely and the information will be available on the TiSPY dashboard. With the TiSPY SMS tracker app, users can remotely monitor the text inbox of the target device. For instance, parents can keep an eye on their child's received messages, ensuring their safety and addressing any potential issues or threats promptly.
3. Monitor Shared Multimedia Files
You can also monitor the media shared through SMS like images, videos, audios, etc. to check the nature of the conversation whether it is dangerous for your kid to consume. The TiSPY SMS tracker app allows users to monitor shared multimedia files through text messages. For example, parents can view the photos or videos shared by their child, ensuring the content is appropriate and identifying any potential risks or concerns.
4. Access Deleted Messages
Kids might delete some text messages. With TiSPY, parents can retrieve deleted conversations as well. The TiSPY SMS tracker app provides the ability to access deleted messages on the target device. This feature allows users to retrieve important information or detect any attempts at concealing conversations, ensuring a comprehensive monitoring and protection system.
5. Able To See Text Message History
TiSPY allows tracking the text message with the date and time stamp. Parents can also track the details of people their kids are chatting with. The TiSPY SMS tracker app enables users to see the complete text message history on the target device. This feature allows parents to track the communication patterns, identify trends, and address any concerns or issues that may arise over time.
6. 24/7 Customer Support
TiSPY, the spy text message app provides 24/7 customer support for any issues caused. The customer support aims to solve the issue in less time. TiSPY SMS tracker app offers 24/7 customer support to assist users with any queries or concerns they may have. Whether you need help with installation, troubleshooting, or using the app's features, their dedicated support team is readily available to provide assistance and ensure a smooth user experience.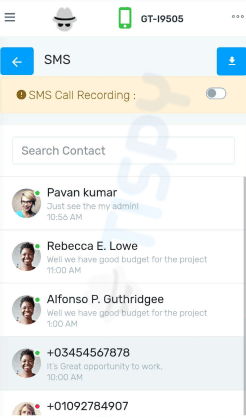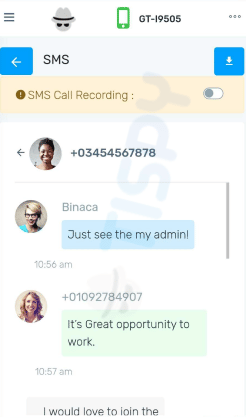 How Does the TiSPY SMS Tracker App Works?
TiSPY, a hidden SMS tracker when installed, tracks and backs up the SMS history from the target device. The tracking information is available to parents on the dashboard provided by TiSPY. Let's see how to track text messages with monitoring software.
Parents can track their kid's text messages in three easy steps:
Step 1: Install
Buy the plan that suits you best. Install the app on your kid's and your phone. Before installing you can check the phone's compatibility
here.
Step 2: Register
After installing the app, register with your credentials.
Step 3: Login
Login into your account and you can start tracking your kid's SMS through your dashboard.
Over 1000+ satisfied users say about us
It is really a best option for the parents that can prevent their childs from wrong companiens.i like it and really it is meracle software
It is nice and useful application in today smart world.
The best app ever for the phones without root!!!! 10000000..00000 stars!!!!
Best ever does the job a detective without losing thousands. thanks!!!!!
It is nice and useful application in today smart world.
Great app. Good price. I found and choosed over other apps..
Awesome,better than I thought possible. The service works great on my Samsung galaxy 2.
This really helps when trying to keep up with our kids. Thank you!
So far so good. This app is just what I've been looking for. Website is easy to set up. It should start up hidden and then if you want it shown you can do so.
Great software, would love a reward for being a long time user..
awesome & !!! very good app i was really looking for this kind of app. thanks. thanks to creator of such a good kind of app..
Its a cool app. Does everything it says without degrade phone performance.
Thank you for this product, it's the best in the market. And I have a question, do you have the same program for Iphone? if you have that's be perfect.. Thanks guys good job.
I love this program. I give thanks to all of the tech. wonderful job
Best tracking app ever I found on net till now. keep it up guys..
Amazing app and service, satisfied with the technical support..
Great software, I feel like my child is safer. It is nice and useful application in today's smart world.
Very Satisfied. The best to monitor your kids and loved ones. Highly recommended
"Working with @tispy is like having a family member who can fix everything!"
Great Software..Must for every parents who really want to take care of their children.
Wonderful product. Gained lot of confident on the Family members. Thanks
"Their customer support was @amazing. Their help was quick and gave me very clear instructions to follow. Incredible theme."