View SMS messages
Want to know what your kids are talking about and when they are chatting on their phones or tablets? Do you fear that your child could be texting with strangers? TiSPY lets you read all the text messages they send or receive on their phones without touching their cell phones.
Do you know that your child send or recieve adult text messages on their phones ? Do you worried about their texting habits? With TiSPY sms tracker, you can remotely check all the sent and received text messages on your kid's and loved one's phone even when these sms may have been deleted from the device.
How It Works?
The application, when installed, takes a back-up of the SMS history from the devices. It instantly uploads the data to your user account, for you to monitor.
Why you need this feature?
If your children were spending too much time on the phone calls. Then, you might want to know with whom they were chatting, isn't it? Then, the TiSPY  SMS tracker feature can help you a lot.
No root required to access our application so, your mobile phone warranty will in action.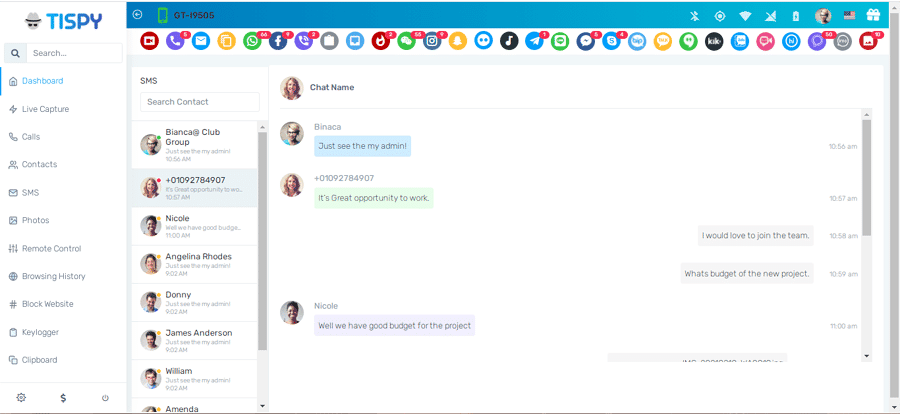 Sms Tracker FAQ
Can I Access Both Sent And Received Messages Off The Monitored Device?
Yes, TiSPY can monitor both sides of a text conversation on the monitored device. Therefore, you can read all text messages sent or received from the monitored person's cell phone.
Can I Access Deleted Text Messages Conversations?
Yes, TiSPY allows you to access even the deleted SMS conversations as the app immediately uploads everything onto its online portal.
Why will TiSPY find this feature useful?
Sometimes knowing what your child are texting can prevent real trouble You can View sent and received messages and Read full content of all messages also know Get time and date stamps of all SMS.All text messages are neatly organized into your TiSPY Control Panel and you can access them anytime.
Awesome product features into single app
Over 1000+ satisfied users
say about us

"It is really a best option for the parents that can prevent their childs from wrong companiens.i like it and really it is meracle software"

"It is nice and useful application in today smart world."

"The best app ever for the phones without root!!!! 10000000..00000 stars!!!!"