Skype Tracker
TiSPY lets you view all the Skype chat conversations that take place through the target phone.You can easily monitor all skype activities of your child directly from your dashboard. You are just a click away to monitor your child and make him/her safe.
Do you know what your child do on skype? With TiSPY you can view names of everyone with whom your child chat, so their chats will never be a worry for you. You can also monitor their Skype chats to find out who they're online with. This feature lets you focus on any unusual contacts and gives you flexible way to stop embarrassing situations before they occur.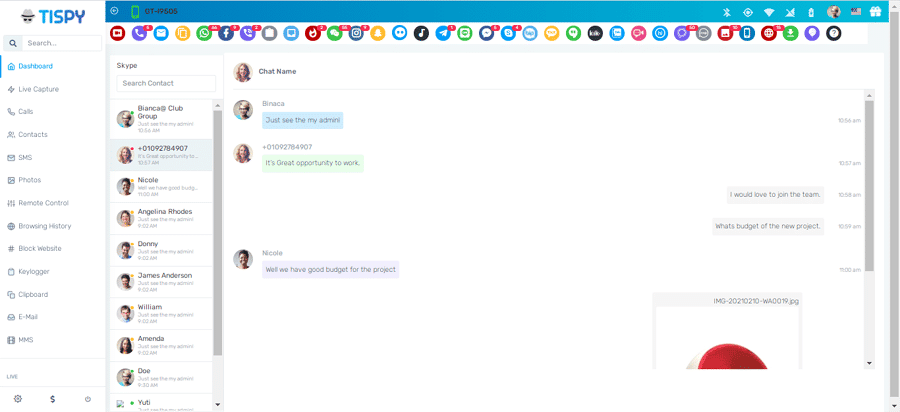 Determine more: Whatsapp Tracker | Facebook Tracker | Gmail Tracker | Skype Tracker | Viber Tracker | Line Tracker | KiK Tracker | Tinder Tracker | TelegramTracker | Kakao Tracker | WeChat Tracker | Hike Tracker | Hangouts Tracker
TiSPY gives you facility to:
Skype Tracker FAQ
Can I Record Skype Calls And Listen To Them Using TiSPY?
TiSPY doesn't offer Skype call recording feature. However, you can track Skype call logs along with time and date stamps.
Can Skype Messages Be Monitored?
Yes, you can monitor Skype messages using a monitoring app like TiSPY. The app accesses all Skype messages sent or received (on the monitored device) and automatically uploads them to your web account from where you can view or download them anytime.
Does TiSPY record skype call?
No,TiSPY does not record skype call But Incoming and Outgoing messages will be available without root the phone.
Awesome product features into single app
Over 1000+ satisfied users
say about us

"It is really a best option for the parents that can prevent their childs from wrong companiens.i like it and really it is meracle software"

"It is nice and useful application in today smart world."

"The best app ever for the phones without root!!!! 10000000..00000 stars!!!!"