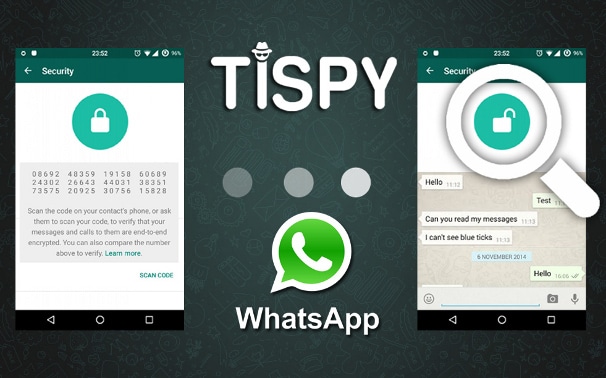 Recently WhatsApp launched it's "end-to-end encryption" feature to make your WhatsApp chats unaccessible.But we say sorry to WhatsApp because Tispy WhatsApp Tracker works perfect even with end-to-end encryption.
What is WhatsApp end-to-end encryption?
It is simple : when you send a message, the only person who can read it is the person or group chat that you send that message to. No one can see inside that message. Not even WhatsApp employees. End-to-end encryption helps make communication via WhatsApp as private as you feel in face-to-face communication.
Every message, photo, video, file, and voice message you send, is end-to-end encrypted by default, including group chats.
How Tispy breaks end-to-end encryption!
Tispy's extremely powerful WhatsApp tracking feature provides you every message, photo, video, file, and voice message that target device user sends & receives, no need of any key/decryption algorithm/tools to see the message even if the user uses latest end-to-end encryption feature to secure his/her messages.
Tispy WhatsApp tracking helps you monitor children's WhatsApp remotely, checking all the WhatsApp messages, calls, multimedia sent and received on the target phone or tablet, although he/she encrypts their chats with end-to-end encryption of WhatsApp.You can also check names and number of sender and other details like time and date of chats.
Tispy WhatsApp tracking includes :
Effortless tracking even if end-to-end encryption/WhatsApp locking App enabled.
View all chat messages.
Find out the names and numbers of people they have been chatting with.
View photos, video clips and listen to audio messages.
Get time and date stamps to know when each chat took place.
Do you think it is difficult?
Tispy made it so effortless that you will get all WhatsApp data right to your dashboard with just one click from anywhere at any time! Isn't it easy & exciting for you?
Smart measures to ensure safe device usage by your children.