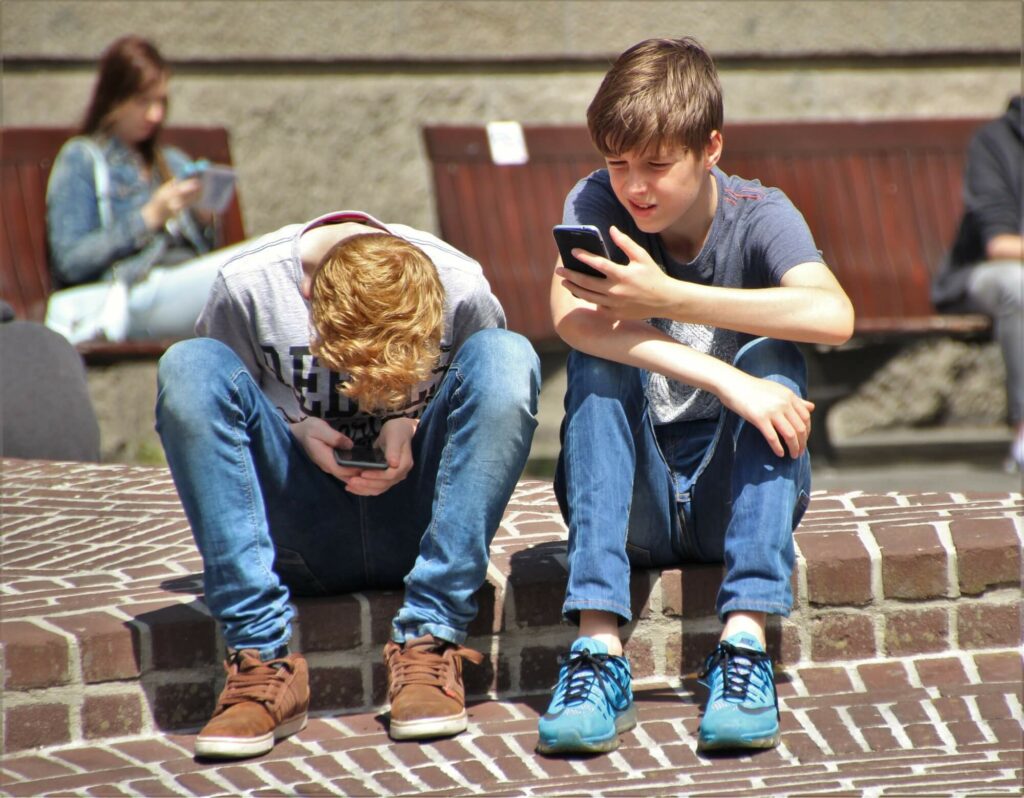 Today, the Internet is the ultimate culprit for creating spoiled brats. Kids have minimal knowledge about cyber-crime but they may be one click away to commit one. Kids view, share and download too many things from the internet which are kept discrete and out of the reach. This could raise the panic level for most of the parents. Situations could get chaotic lately, but why wait until then.
You may get an opportunity to sneak a peek but you'll never know everything. But, there is always a way out. TiSPY is a parental control software which allows you to spy and stalk on your kid's phone. The installation process of TiSPY is easy and it won't take much time to install on your kid's phone.
Installation guide is provided in the link mentioned: https://tispy.net/install-guide/
As we are done with the installation phase, let us go over those 7 different ways to spy and stalk on kids phone
#1. Manage Calls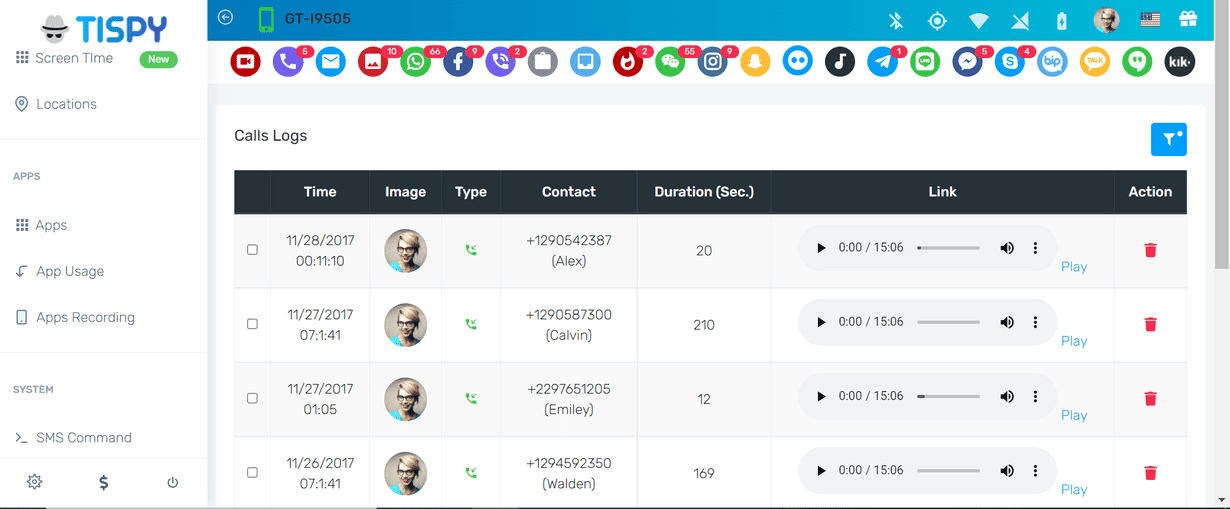 TiSPY provides a separate dashboard to view all the incoming and outgoing calls that are made from one particular phone. It just does not provide you with the random numbers that were dialed, it also provides all the specific details about a number. It provides you with caller's id, the location from which the call was made, at what specific time the call was made or received, and also the duration of the call.
All the information will be sent to the registered email address of the TiSPY application.
#2. Track text messages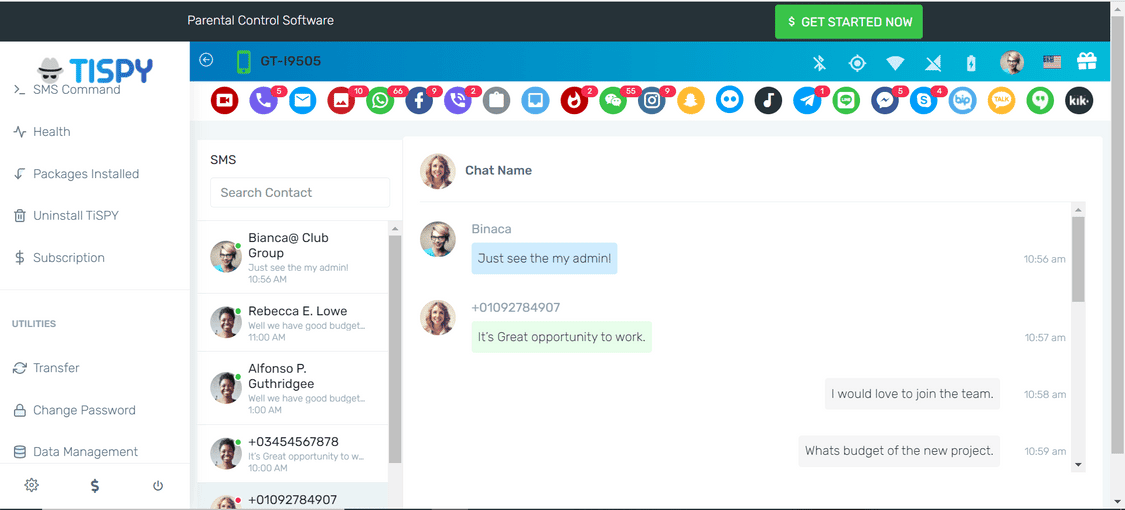 Most of the transactional scams are successfully made through messages. Your kid may send all of your bank details to an unauthorized person. TiSPY lets you track all the incoming and outgoing messages to a phone. You can read messages that were sent or received from the phone. The messages get logged into TiSPY account generating sender number, receiver number, time and message itself. It also determines sender's details. Parents can easily spy on text messages directly from dashboard remotely.
#3. Location Tracking & Geo-Fencing
TiSPY uses GPS technology thereby geo-fencing your locality. It makes easy to track the location of your notorious kids. TiSPY is equipped with sophisticated technology like real-time mapping which notifies you every move made by the phone user. It draws the whole path of all the locations that were visited in the entire day. It determines Location history, Geofence, and Alerts on Geofence. Parents can track kid's location in multiple ways like GPS location tracking, Location path history and even set geofence alert to save their kids.
#4. Track Multimedia Files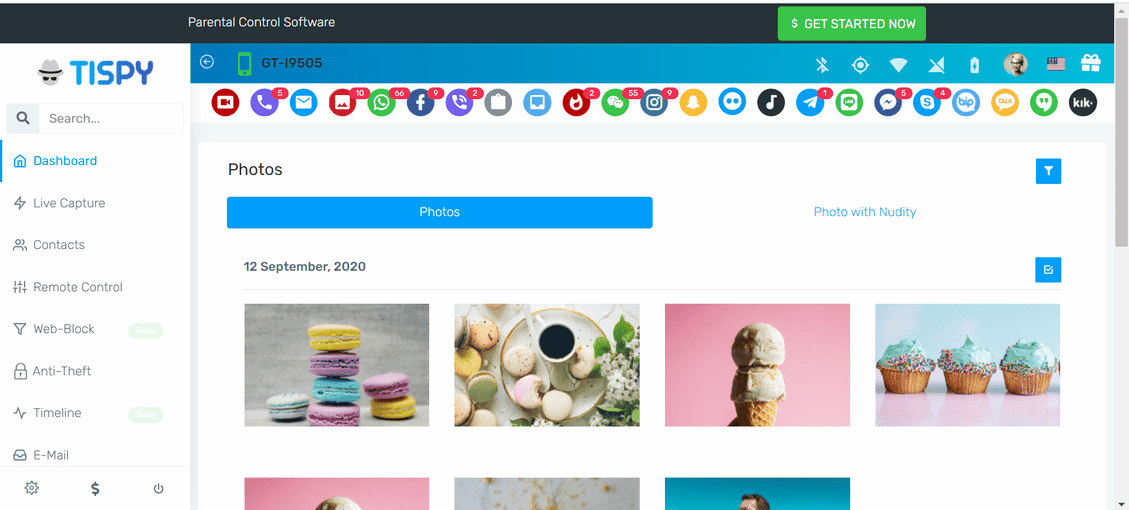 The Internet let kids access unknown files. These files could include pornographic content like videos and images. Worst could be saving those inappropriate files into the phone. Well, we don't want anyone else to view such images and videos. The TiSPY application let you track all the multimedia files that are accessed over the internet. These multimedia files include images, videos, Youtube videos which are downloaded offline, and other formatted files too. Even if a specific multimedia is deleted, TiSPY stores it and makes it available for you. Using TiSPY parents can even check clicked images & videos directly in gallery from dashboard. It gives easy access to the multimedia of the target phone.
#5. Spy on Instant Messaging Apps
A lot can be shared over social networking applications. Applications like Whatsapp, Skype, Hike, Messenger, Google Hangouts and many others could be a gateway for many strangers to interact with your kid. Interactions will not affect you kid but stranger will. Strangers could get access to your personal information but it could be stopped even before being shared. TiSPY allows you to spy on all instant messaging applications that could be a possible threat for your kid. It saves all the messages and images that were sent over the internet. It also gives a feature to know all the sender's details too.
#6. Monitor Internet History & Apps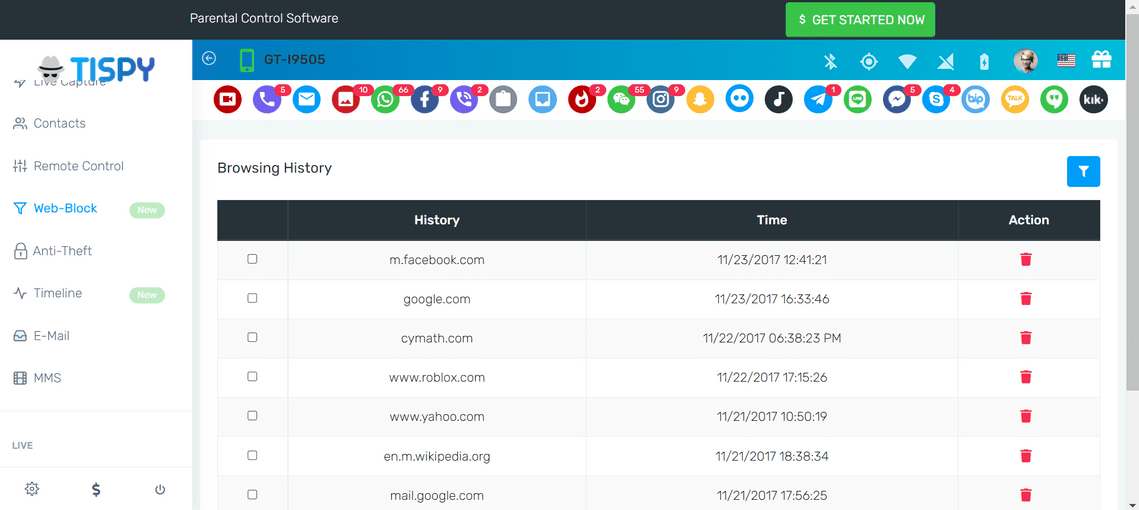 There are applications like facebook which can also be accessed through a web browser. Web browser history could be manipulated by deleting cache memory but still, you can monitor all the resources that were accessed recently. Kids may access an inappropriate website which could advertise or include pornographic content. But, TiSPY lets you monitor all the internet history and apps those were accessed recently along with date & time.
#7. Live Surroundings
Live Surrounding or Live tracking is another sophisticated feature added to the TiSPY application. This feature adds a security for your kid's phone. Even if the target phone gets lost, it could be easily be found by knowing the exact location and it's live surroundings. Parents can access the kid's smartphone front and back camera to check where their kid's are at that moment. This feature gives them the idea about their surroundings.
Conclusion: The TiSPY application is one the best spying software available in the market. Your kids will never know about all of their activities be monitored and stalked. The TiSPY application runs in the background of an Android application which makes it hard to detect on the main screen of the phone. But, if your kid is a tech geek then it may get spotted and uninstalled. Even, if the application is uninstalled, it notifies about the uninstalled application.
Smart measures to ensure safe device usage by your children.