We live in a world where about 3 million cell phones are sold every day, and more than 1 billion computers are already in use. More precisely, we live in a world that places technology at the epicenter of its growth. As change is the only constant, we cannot expect our lives to stay the same. All the major sectors that sustain life on this planet including finance, healthcare, and engineering are heavily reliant on technology for day-to-day operations. Furthermore, even normal households cannot function actively without the intervention of technology. The internet drives the way things work and the current generation is quite comfortable with that fact. Parenting isn't the same ever since "Google" has emerged as the international "know-it-all". It is normal for a teenager to spend most of his/her time glued to a smartphone screen. Therefore, parents need to equip themselves with the required skill set to cope with the changing dynamics of the world. The internet is another dimension of its own, and children don't have the required maturity to deal with such exposure. Hereby, kids often download content that isn't appropriate for them or talk to someone who isn't a healthy influence.
The world online isn't as safe as it seems to be, and parents need to be able to protect their children from the hazards looming online. A parental monitoring software can do what's necessary. However, its implementation is a huge factor that determines its success. There are ways to make rightful use of a parental monitoring software, and then there are ways that can make it a bane instead of a boon. Before we dive into the dos and don'ts associated with a parental monitoring software, let's clarify what it exactly is.
What is a parental monitoring software?
Given the influence internet has on the society, parents have a responsibility to be familiar with the way their kids interact with the virtual world on the web. The generation gap is a huge factor that often makes it tough for parents to keep an active check on their children who are technology-driven children. Playgrounds are no longer the hotspots where kids indulge themselves in their leisure time. They are more likely to be found "active" on online leaderboards and Instagram feeds. Therefore, if parents wish to familiarize themselves with the lives of their children, they need to familiarize themselves with a place called 'social media'. Furthermore, they need to know exactly what their kids are doing on such platforms. A parental monitoring software is a tool designed for the above-mentioned purpose. In lay man's terms, it is a tool that parents can use to control and monitor the activity of their kids on their smartphones. An example of one such software that is trusted by a credible user-base is TiSPY. TiSPY is a parental monitoring software that combines an easy-to-use interface with a wide array of features. Some of the most prominent ones are listed as follows:-
Live Features:-TiSPY offers its users the ability to capture a live moment on the screen of the smartphone it is installed on. The live photo feature isn't the only real-time function at the disposal of parents. You can even control a stolen phone from TiSPY's dashboard and make it ring on high sound levels. The only way to make the phone stop ringing is to actively disable the feature using TiSPY's dashboard. The live feature adds an extra layer of security to the host device. Other than that, it enhances the parental monitoring experience as a whole.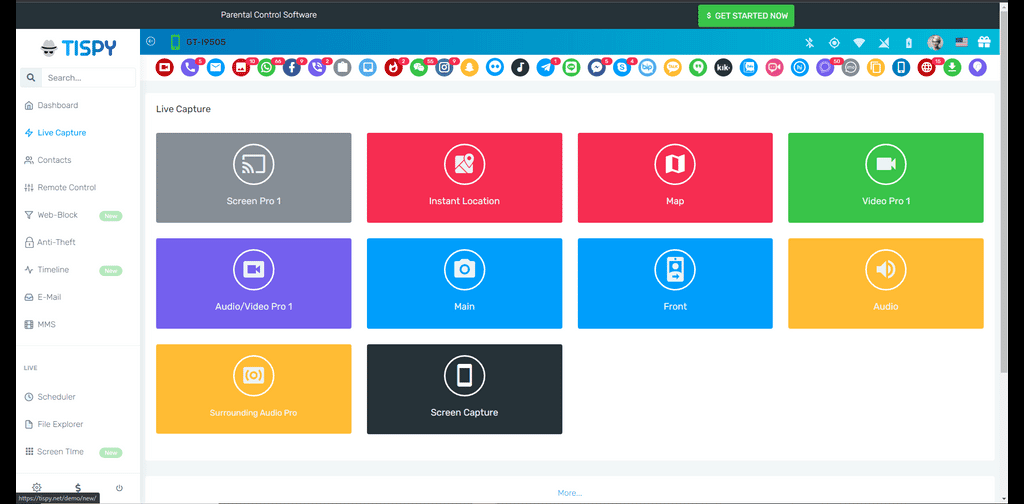 Scheduler:-
This feature enables you to click a photo of the device's screen at a specified time. Even if the device lacks internet connectivity at the specified moment, the scheduler function will still work and synchronize the captured image as soon as the connection is established again.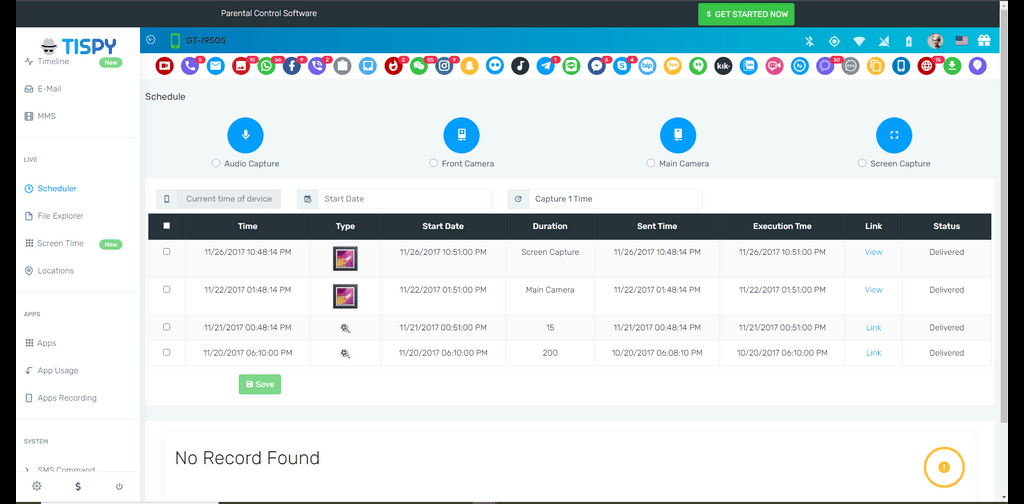 Control Applications and Contacts:-
You can use the TiSPY portal to equip yourself with remote access as well as control of the host device. You can monitor which contacts and applications undergo most usage, and can also enable/disable the applications that you deem inappropriate for your kid.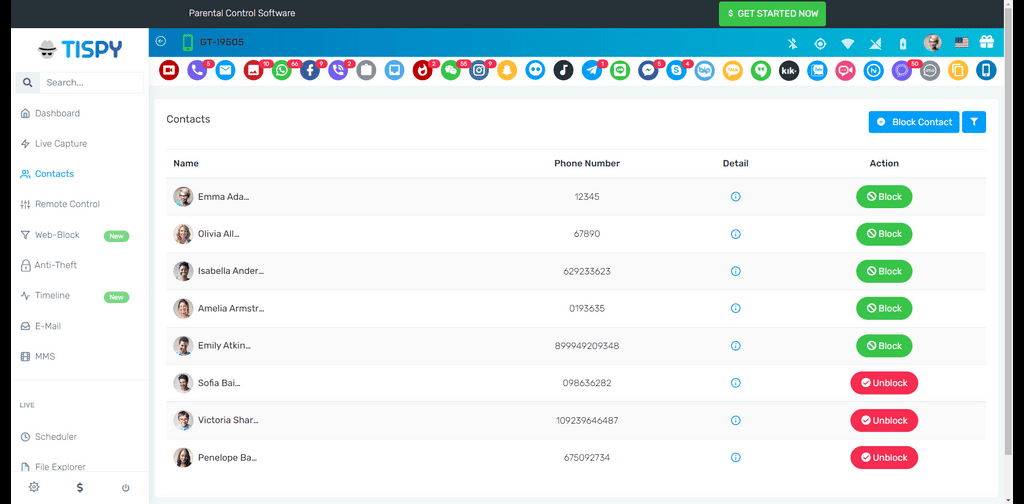 Keystroke Logger:-
You can view every keystroke made on the host device's keyboard on TiSPY's control panel. Real-time data synchronization makes keystroke logging practical and possible for a device equipped with TiSPY.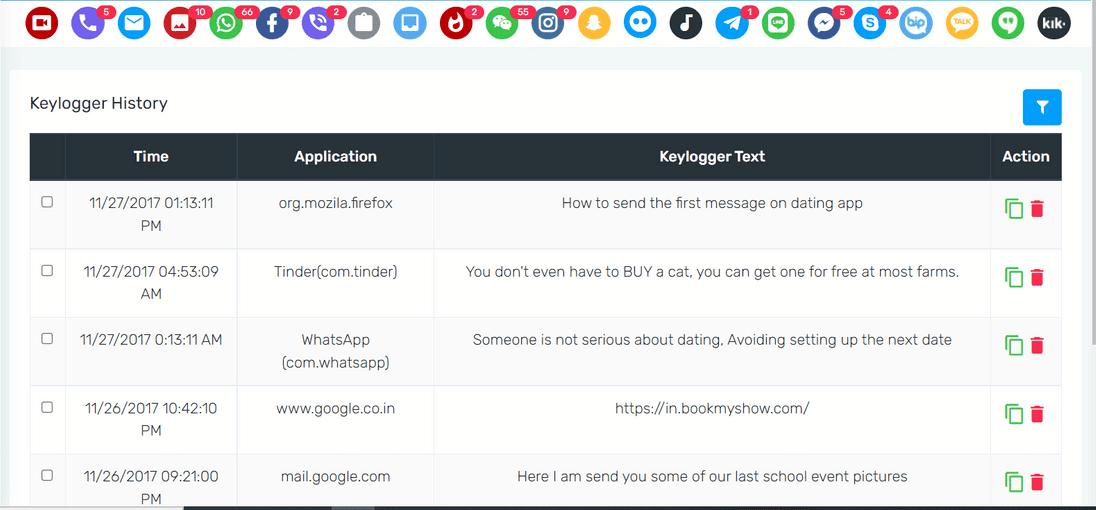 Text Copier:-
The text copier feature will enable you to monitor the texts that your kids make a copy of. As soon as a text material is copied on the host device, TiSPY makes a note of that. The required information can be accessed at the Clipboard section of the software.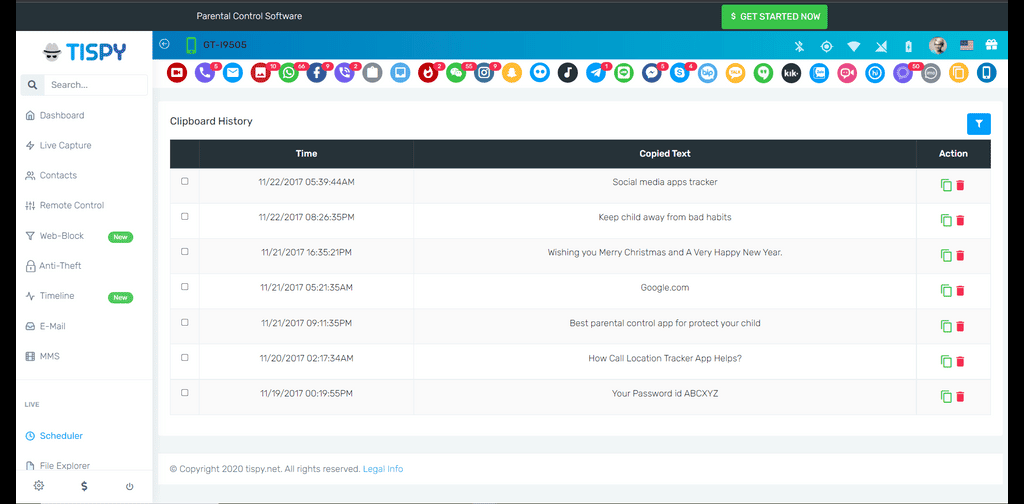 Health Monitor:-
TiSPY also lets you monitor health statistics of your child like the number of steps covered in a day, calories burned, distance walked etc. This feature enables makes TiSPY a healthcare aid on top of being a regular parental monitoring software.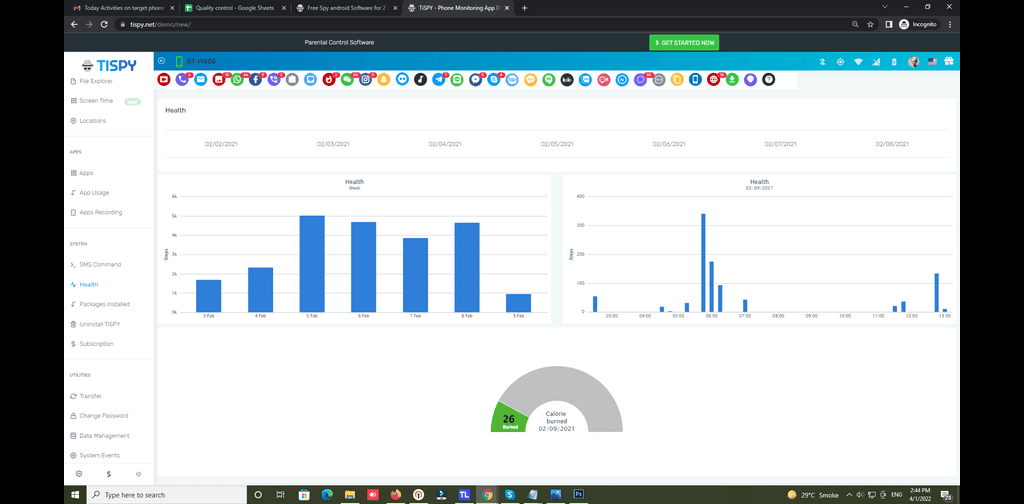 Now that a clear picture of the functioning of a parental monitoring software has been laid out, let's talk about how parents should make its use.
Dos and Don'ts of Parental Monitoring Software
Don't install the software secretly:-
The primary purpose of a parental monitoring software is not to establish unnecessary restrictions on your kid, but to protect him/her from viable dangers present on the internet. In order to do that, a relationship of trust must exist between a parent and a child. However, if you go behind your kid's back and install a parental monitoring software to spy on him/her, he/she will eventually find it out. The current generation is much more aware of technological advancements than the previous generation.A positive approach towards protecting your child from online threats would be notifying them about the installation of a parental monitoring software on their phone. You need to convince them that your only concern is their well-being.
Do give them input:- 
When you decide to install a parental monitoring software on the smartphones of your children, notify them about its presence. Tell them why you feel the need to monitor their activities when they're away from you. If you are restricting their downloading privileges, give them a reason for it. Furthermore, make sure that the parental monitoring software doesn't interfere with their educational requirements.
Don't let them set the rules:-
Establishing a parenting system where your child is able to voice his/her opinion is important. However, the communication needs to make it clear that you are the authoritative figure whom your kid needs to respect. You need to make your kid understand that you are open to reason, but your decision will not always be what he/she wants. Simply put, establish clear boundaries and don't let your kid dictate how you should or shouldn't be using the parental monitoring software.
Do have a conversation about internet safety:-
Every parent wants his kid to transform into a responsible citizen when the time comes. The roots of such ethical values need to be laid out in the adolescent years of your child. A big part of being a responsible citizen is being a responsible individual on the internet. Therefore, you need to have a conversation with your kid about internet safety. You need to tell him/her about the dangers present online. Merely installing a parental monitoring software won't do the trick. You'll need to educate your kid about what's right and what's not.
Smart measures to ensure safe device usage by your children.