We live in a digital age, where we are surrounded by technologies. People are constantly on their mobile phones. Kids also spend most of their time on mobile phones and the internet. They are getting smarter and they have access to mobile phones from a very young age. Kids use mobile phones constantly throughout the day but they are unaware about the dangers and threats of mobile phones and the internet. Mobile phones and the internet have so many advantages but if they are not used carefully then it can have a harmful and negative impact on the physical and mental health of the kids. Some of the harmful effects of mobile phones and the internet are depression, anxiety, cyber bullying, online predators, etc.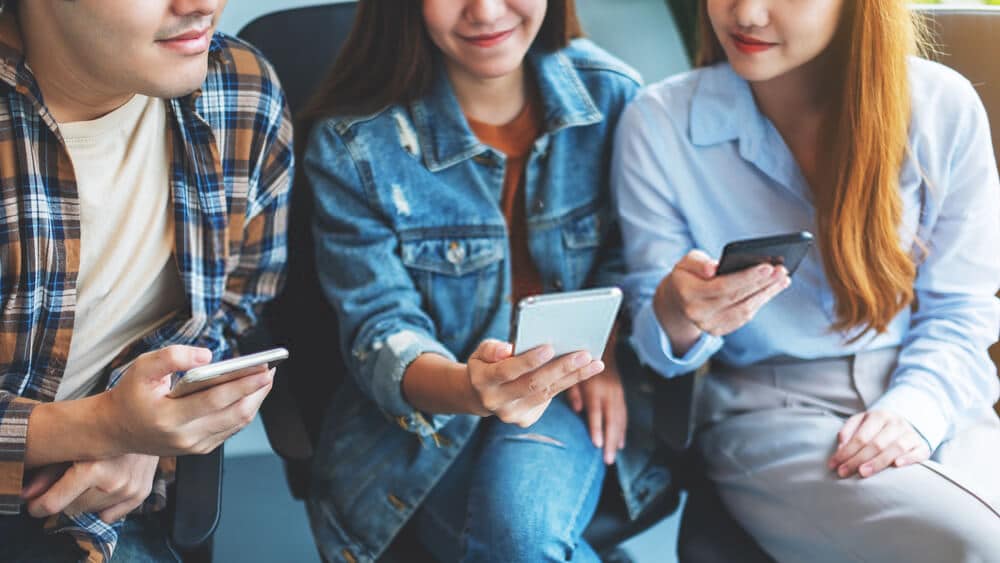 The Internet is full of information and knowledge but along with that there are a lot of negative things that kids must be aware of. If kids are not aware about the harmful effects then they can be a victim of various threats like cyber bullying, gaming addiction, etc. Social media is a good place for kids to connect with their friends but it is also a place for cyber bullies and online predators. These things can have a deep impact on the mind of kids for a longer period of time. Internet also has a lot of adult and violent content that increases the chances of kid acting aggressively and it can also lead to desensitization. Gaming addiction has a lot of consequences and can cause obesity, weakness, or sleep disorders. Apart from this there are numerous harmful effects of internet and mobile phones that can have devastating effect on the kids' physical and mental health.
Android Spy Software Recommended for Parents
It is important for parents to have android spy software because by using spy software parents can monitor all the activities of kids on mobile phones and the internet.
i) To Make Sure Kids Grow Up in Safe Environment
Spy software for android helps in creating a safer environment for kids so that they can be protected from any kind of dangers and there is no hindrance in their growth. The android spy application helps in keeping kids away from bad habits or any kind of dangers.
ii) Keep the Kids Away from Bad Habits and Toxic Circles
Parents can closely monitor their social media accounts and text messages or calls, this way parents can know that their kid is safe from any bad habits or toxic circles.
iii) To Control over What Kids Watch on Web
Parents can control all the activities that kids do on their mobile phones and internet. If there is any application that is not good for kids then parents can get all the details about the applications and can also block them if required. Parents can also monitor the browser activities and see what kids are viewing on internet.
iv) To Monitor Kids while they are at School or Playing Outdoor
Spy software for android allows parents to block any harmful and dangerous content available on the internet to keep the kids safe. Even when kids are out or in school, parents can still monitor all their activities. This helps parents to know that the kids are safe even when they are out.
Tispy to Observe Kids Mobile Activity
Tispy is spy software for android that allows parents to track and monitor all the activities done by their kids on their mobile phones. It is very powerful and easy to use spy software for android. It comes with various features that makes it the best spyware for android currently available in the market. Here, we have mentioned the best features of Tispy parental control apk that helps in keeping kids safe.
1) Manage Calls and Text Messages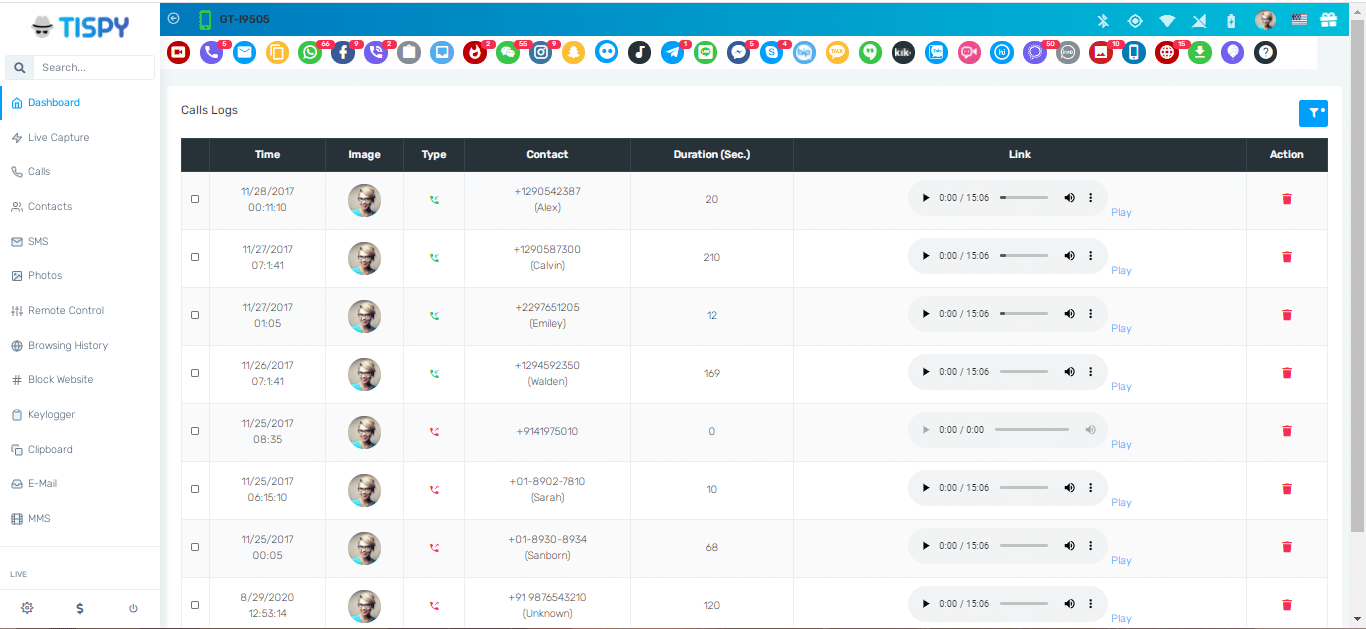 This feature allows parents to see the complete history of all the incoming and outgoing calls on the target device. You can check all the missed and deleted calls. It also allows you to see the date and time stamp along with the time duration of every call. Parents can track the text messages that help them to know what their kid is talking about. They can also know with whom kids are talking along with the exact time and date. Parents can read full content of all messages and if they find anything suspicious then they can talk to their kids and keep them safe.
2) Location Tracking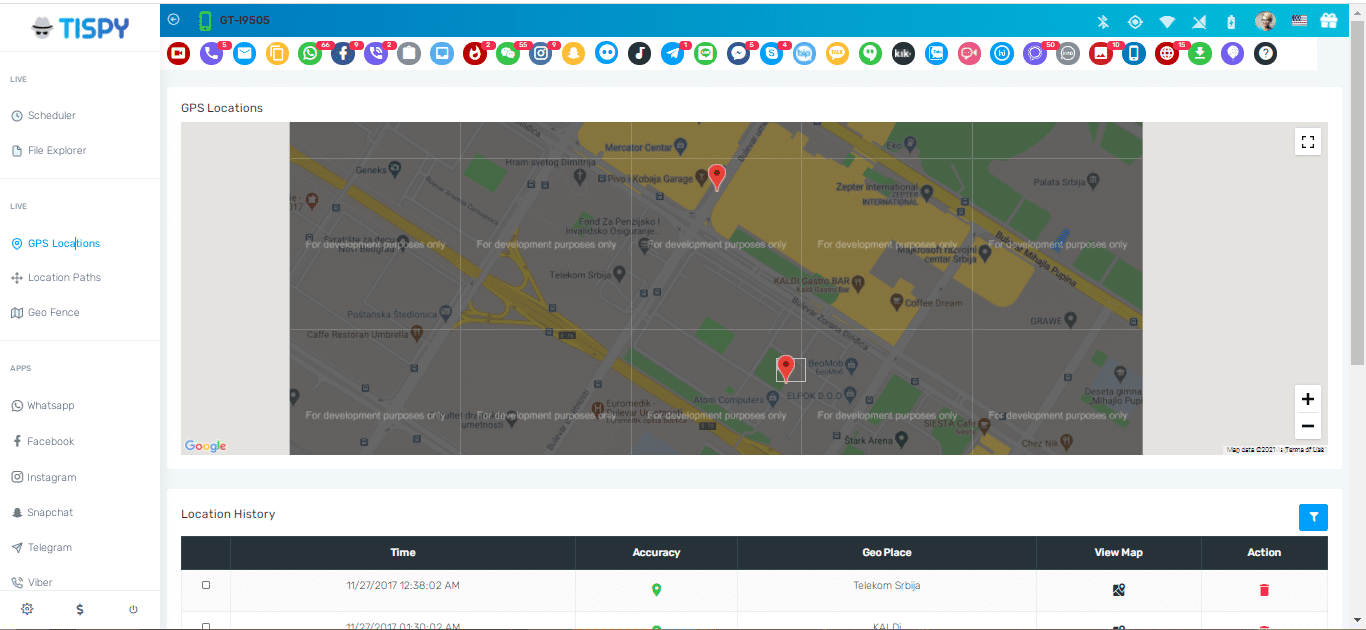 This is one of the best features offered by Tispy android spy. Parents can track the exact location of kids with the help of this feature even when GPS is not available. Parents can see the location path of all the visited places over a specific period of time. There is also a feature called 'geo fence' that allows parents to mark unlimited safe and unsafe areas. So, if the target device leaves the unsafe area then parents will get notified on their mobile phones instantly. Parents can track all the kids' movement and see how often a specific area has been visited. Location tracking is very important and ensures the safety of kids.
3) Social Media Tracking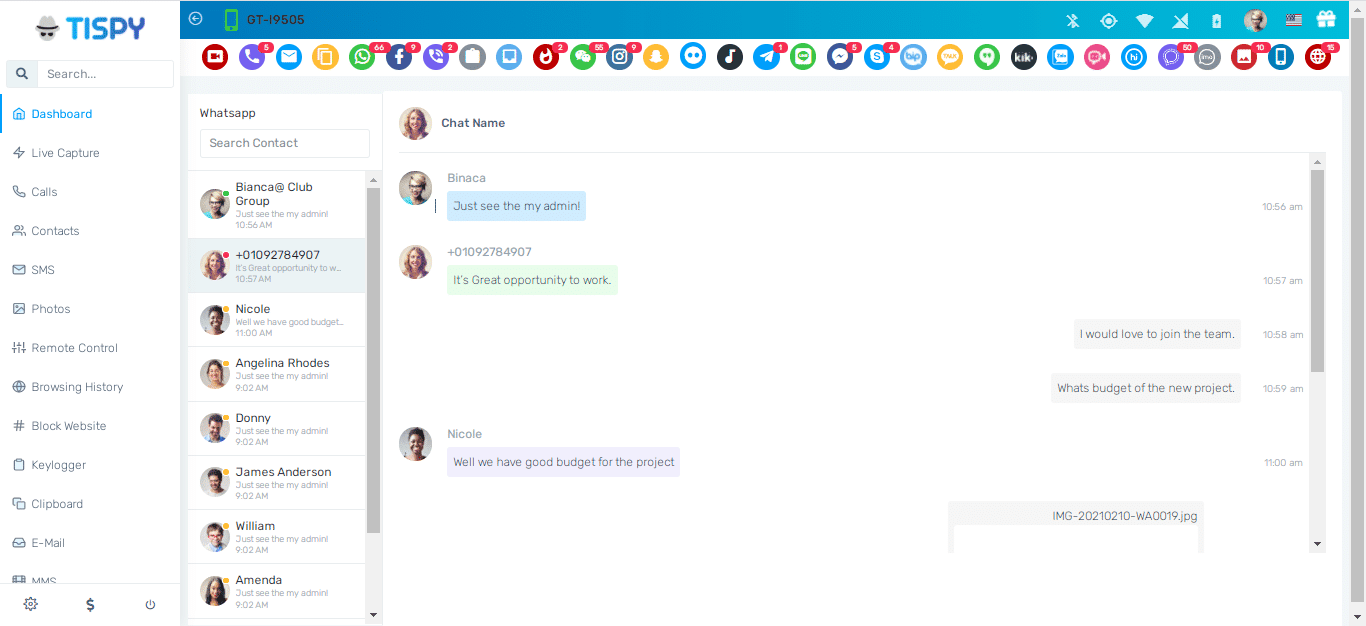 Kids are very much active on social media platforms and this can be very dangerous if they do not use it carefully. There are a lot of cyber bullies and online predators on social media platforms. In order to protect the kids from these threats it becomes important for parents to monitor the kids' social media activities. With the help of this feature parents can monitor all the social media platforms like WhatsApp, Facebook, Skype, Line, Tinder, Telegram, Hike, etc. One of the most popular social media platforms among kids is WhatsApp. Parents can track all the WhatsApp chats and check the name and number of the sender. Parents can see all the photos, videos, and documents that are shared on WhatsApp. This feature also allows parents to see the time and date stamps of any message. All these features help parents to protect their kids from cyber bullies and online predators.
4) Monitor Internet Use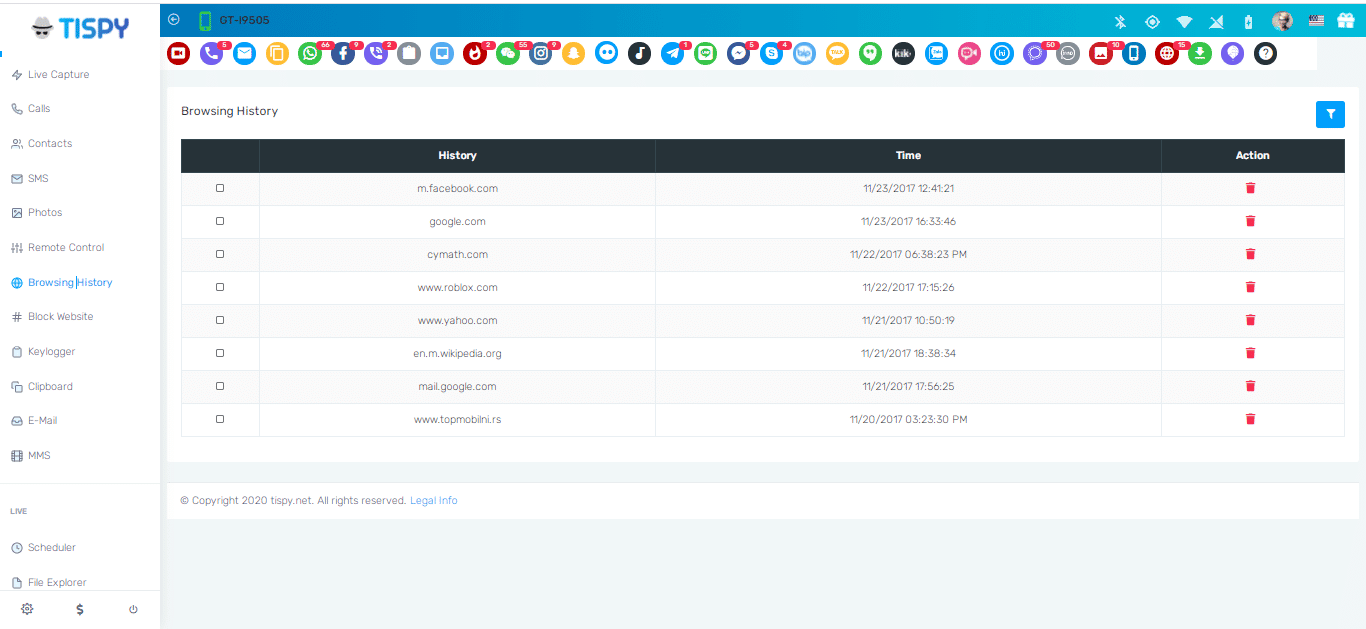 There are so many harmful websites for kids on internet. But parents cannot continuously keep an eye on kids to see what they are doing. With the help of this feature parents can see the websites that are visited by kids throughout the day. You can check the details of the browsing history with web history tracker. Parents can see the time and date stamps for each website and you can also know how many times a specific website has been visited.
5) Track Applications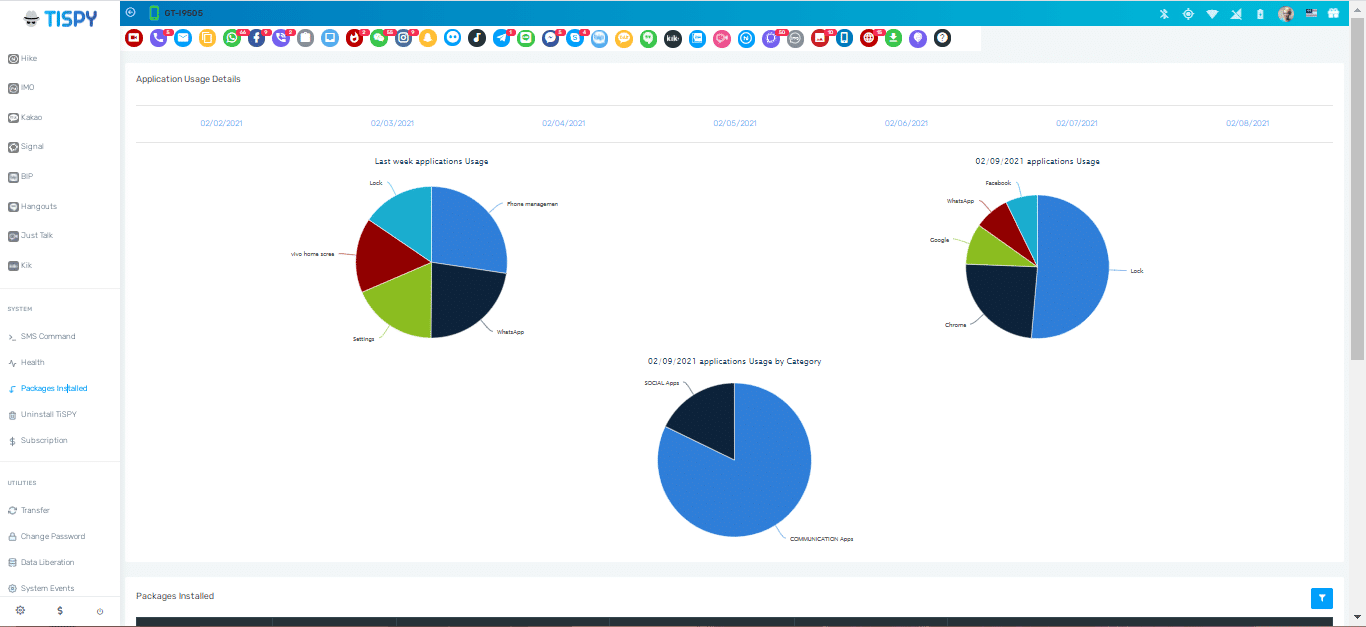 Parents can see the applications that kids use in their daily life. Kids might get addicted to gaming or there might be some inappropriate applications that they might be using. So, parents can easily block such inappropriate applications that have a negative effect on the mental and physical health of kids. Parents can also protect the kids from gaming addiction with the help of this feature.
Conclusion
These are some of the most important features of Tispy online activity tracker. Apart from this various
other features of Tispy android spy are calendar events tracking, keystroke logger, text copier, health monitor, etc. All these features make Tispy the best spyware for android currently available in the market.
Smart measures to ensure safe device usage by your children.