In this technology geeked era, social media has reserved its significant place. Social media platforms have connected the whole world. You can now be in touch with your long-lost friends and loved ones using social media. But, with all these advantages, social media has also introduced loads of disadvantages. These disadvantages of social media especially affect the kids. Hence, it becomes vital for parents to spy on the social media usage of their kids to ensure their well-being.
The current generation is a 'Technology geeked' generation. Being obsessed with the latest and upcoming technology, we have become technology dependent entirely. The primary aim behind innovations, inventions, and discoveries was to lessen the human effort by helping us to solve complex problems. But an adverse effect on our younger generation would not hide even if we were blindfolded. Enormous varieties of applications are launched every day, consisting of features capable of mesmerizing teenagers and kids. New application acquaintances are common among teenagers and children, but getting addicted to them should be avoided. Instead of judging kids' activity, parents can find what they were up to and stop before anything goes wrong.
Why should you spy on your kid's social media?
Social media has gained high popularity because of its quirky features. But, this popularity has increased the dangers of social media like cyberbullying, identity theft, or blackmailing. Kids at a young age are prone to share loads of information on the Internet. This information can be hacked and misused by the evil elements of the Internet. Kids can get exposed to explicit content on social media or fall prey to cybercrimes. Hence, you should spy on the social media of kids to keep them safe from any danger.
How can you see social media activity?
You can see social media activity using social media spy apps like TiSPY. The spy apps allow you to track the overall social media activity of the target. You can monitor the information they are sharing and consuming through social media. You can also track the conversations and identify the people your child is interacting with. TiSPY offers a dashboard to the parents where they access all the social media activity of their kids. The strategy to
track applications like WhatsApp ,
Facebook, Snapchat, Instagram, WeChat, Tinder or Telegram is understandable. 'TiSPY' , the best parental control application, gives parents the privilege to have complete control of the child's phone. Parents have to download and install the application on the child's phone to enable tracking.
How to Install TiSPY Parental Control Software in Smartphone
Requirements – Android OS 2.1 and Above / Unlimited Data Plan Recommended TiSPY Installation Process
Allow "Unknown sources" installation.
Disable Google Play Protect.
Download and Install "TiSPY Client"
Configure "TiSPY Client".
Create / Register Account
Email Verification.
Check out complete TiSPY Installation Guide Video
How to install TiSPY? https://bit.ly/2NAHMEE to Download
After installing the TiSPY parental control software on a kid's smartphone, parents can easily access all the details from the TiSPY dashboard.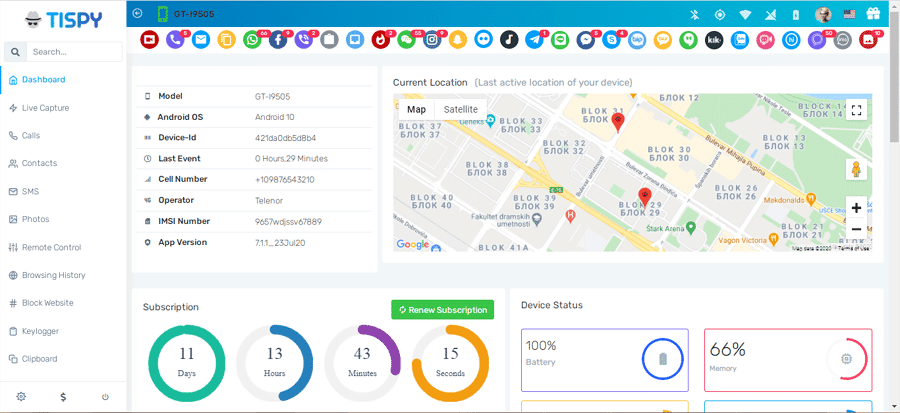 Parents can easily spy or track social media profiles, Instant Messaging apps, Geo locations, SMS, Media gallery, Contact book, Browsing history, Mails, MMS and many more details. Here, we are going to provide the detailed information of how you can track or spy Whatsapp, Instagram, WeChat, Tinder, Facebook and other social media channels images & messages easily.
#1 Spy or Track Whatsapp Messages & Images
WhatsApp is the primary choice for many people across the world because of its encryption. But an inferior messenger was an ideal match for spying software. TiSPY application fetches complete detail of a conversation initiated on WhatsApp and can
spy on whatsapp precisely
. The user dashboard allows you to see the date and time of every message sent or received. It displays the contact number and name of the opposite party if saved in the phonebook. The spying application allows checking message's content and other attached files like audio, video, mp3, etc. It is also equipped with keyword message searching. User dashboard also saves deleted messages and chats.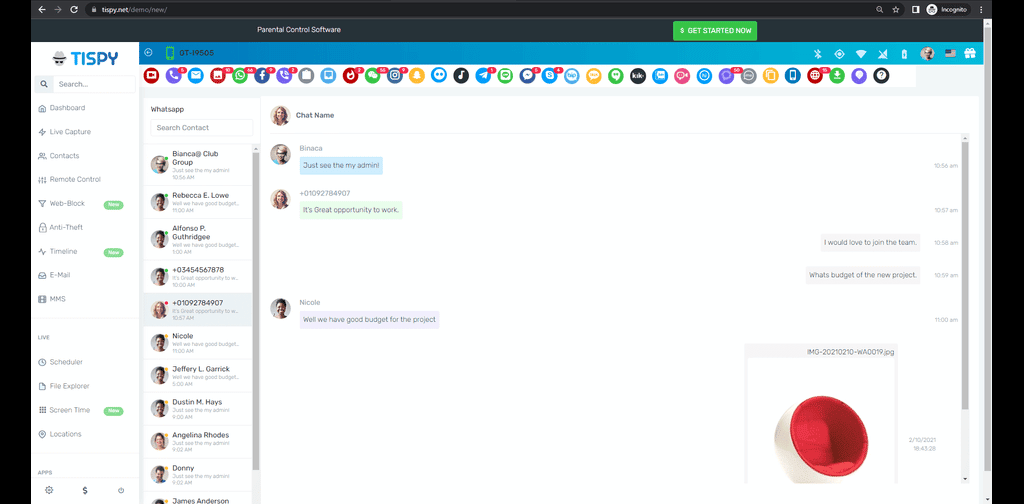 #2 Spy on Facebook Messages
The most viral and addictive social media website is vulnerable to spying. The user dashboard allows you to see the date and time of every message sent or received. This
Facebook tracking
app displays details of sender and receiver. The complete information of a chat or a conversation along with shared multimedia attached files can easily be viewed through the user dashboard. Searching a specific message with the use of a specific keyword is another
feature of the TiSPY software
. If a host deliberately deletes a message or chat from the phone, the deleted information will always be available on the dashboard.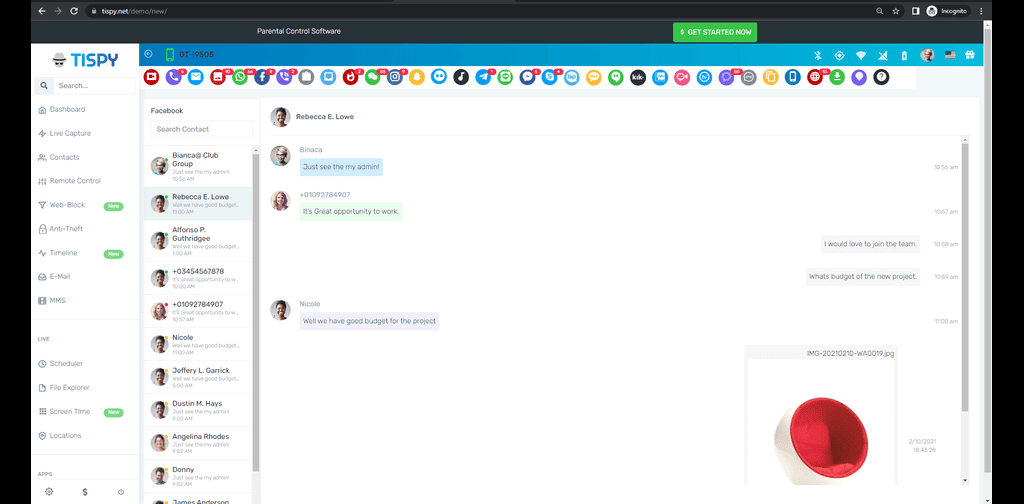 #3 Spy on SnapChat
The photo-sharing platform hiked social media addiction among youngsters, but it could not save itself from getting spied on. The TiSPY software allows parents to check the date and time of a specific message or an image sent from a host's account. The statistics of each chat are laid out on the user dashboard. The spying software gives you the privilege of viewing and downloading all types of attachments sent on the
SnapChat platform
.
 It also supports searching a message using a specific keyword feature. Deleted messages and chat gets automatically saved on the TiSPY user's dashboard.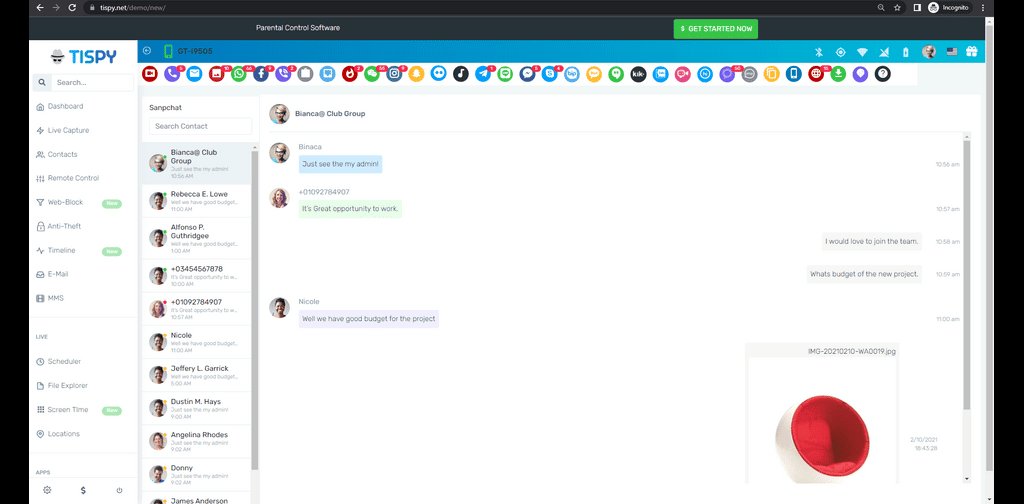 #4 Spy on WeChat
The origin message sent or received on the platform. The tracking software facilitates accurate details of date and time of a particular message. It also allows sneaking a peak on message's content shared on the platform. Any user can view and download file attachments shared via WeChat. What's more, you can search a message or a term using a specific keyword search feature. And the biggest fear has been taken care of, any message that is Deleted will automatically be saved on the TiSPY user's dashboard.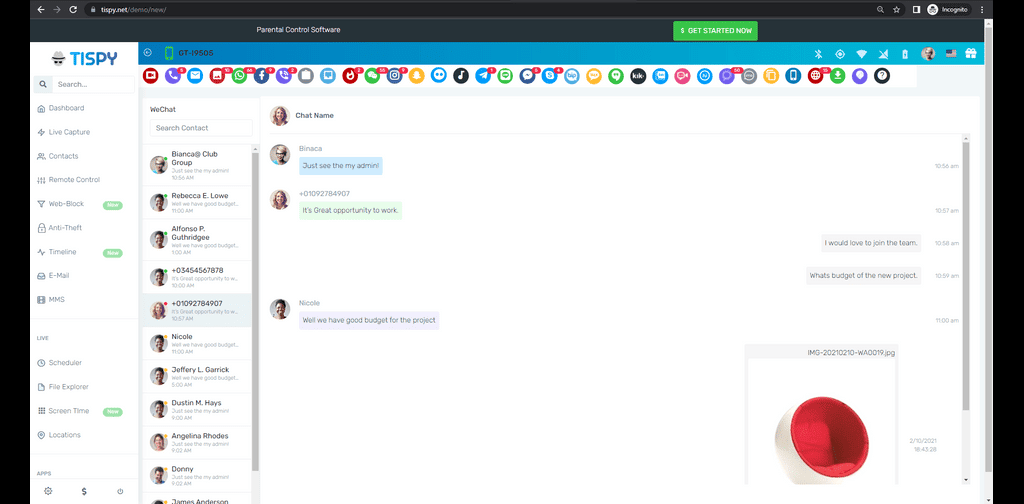 #5 Spy on Tinder Messages
The online dating application which is not encrypted is a piece of cake for TiSPY to monitor any user's action. The date and time of any message either received or sent is displayed on the user dashboard. The information of each
tinder chat is easily accessible
through the user dashboard. Parents can inspect all the file attachments sent on the dating application and download them. It also supports searching a message, name or a phrase through the complete history using a specific keyword feature. Deleted messages from Tinder and chat will get saved automatically on the TiSPY user's dashboard so you can see it anytime, anywhere.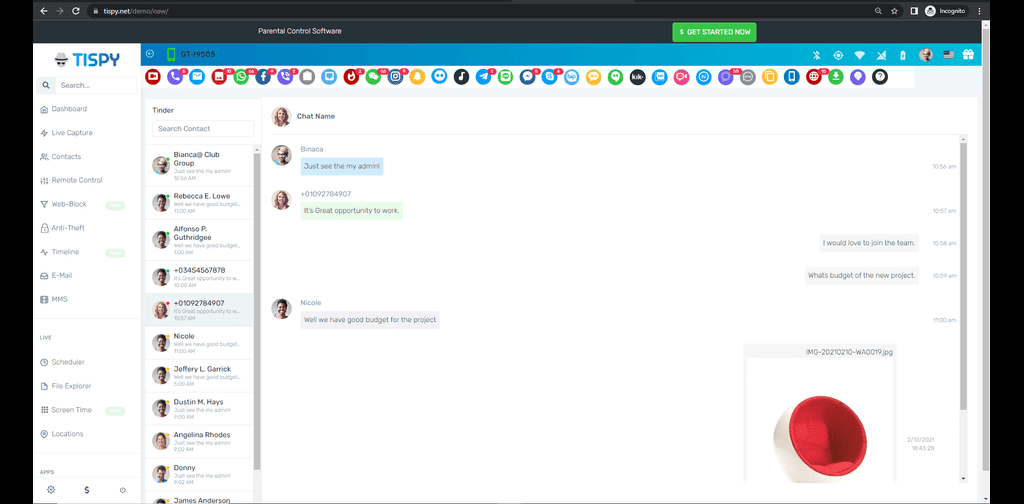 #6 Spy on Instagram Images & Messages
The new photo sharing and story setting social media application have generated a lot of buzzes over the years. Its mesmerizing graphical user interface has become an addiction among the youth. But it can also be spied on via TiSPY software. The spying software tracks the accurate date and time of a message. The content of any message is easily accessible. Using this
instagram spy app
, Parents can view and download all the images of Instagram, and videos sent via the social media platform. The best part of the app is, it allows you to search for a specific name or word used in a message using the search box. The most handy thing about the app is that the messages and chats that are deleted get automatically saved on the TiSPY user's dashboard so you can view it from there itself.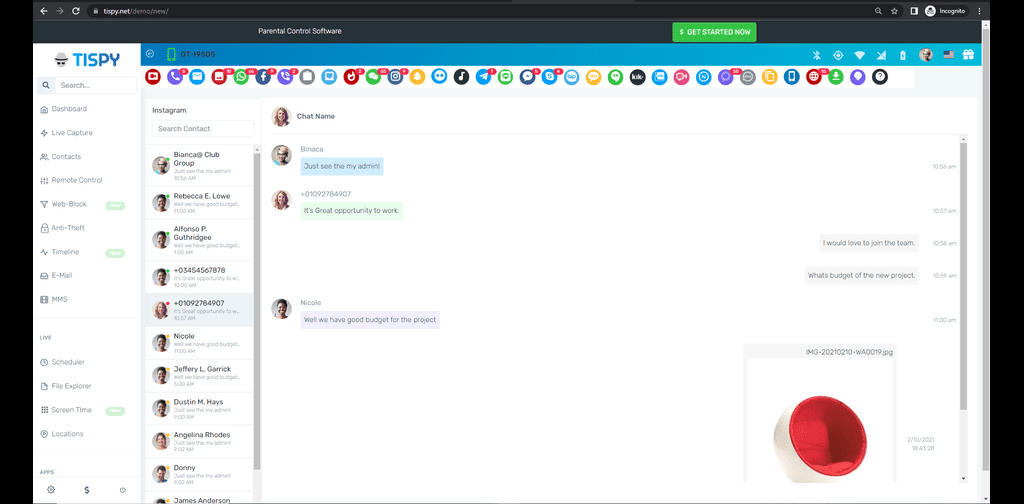 Good news is that you are not limited only to these apps, you can check, track and control other social media applications like Skype, Kik, Viber, QQ and a lot more as well.
Is it legal to use social media spy apps?
Social media spy apps are designed for legal use only. The parents can legally monitor their kids' overall social media activity using spy apps. As far as you spy on social media for ensuring their well-being it is legal to use social media spy apps.
Conclusion
It has become important for parents to monitor all the social media activities of their kids. Seeing the pros and cons of Parental Control/Monitoring Software, you have to make a call on whether to use it or not.
Social media is a virtual reality
laid on the internet which has no correspondence with tangible reality. Children draw inspiration from other people on social media and get influenced to fake their lives. The fake popularity game would toxicate children's minds to post inappropriate photos and views, landing them in danger. They may also compare themselves and lower their self-esteem. Parents should take care that their kid is not influenced by the addictive trend on the internet.
Smart measures to ensure safe device usage by your children.