It is a lovely day outside. But, your kid is glued to his Smartphone indoors. Does this sound like your kid? If yes, please know what you can do to protect your child from the perils of the present online world.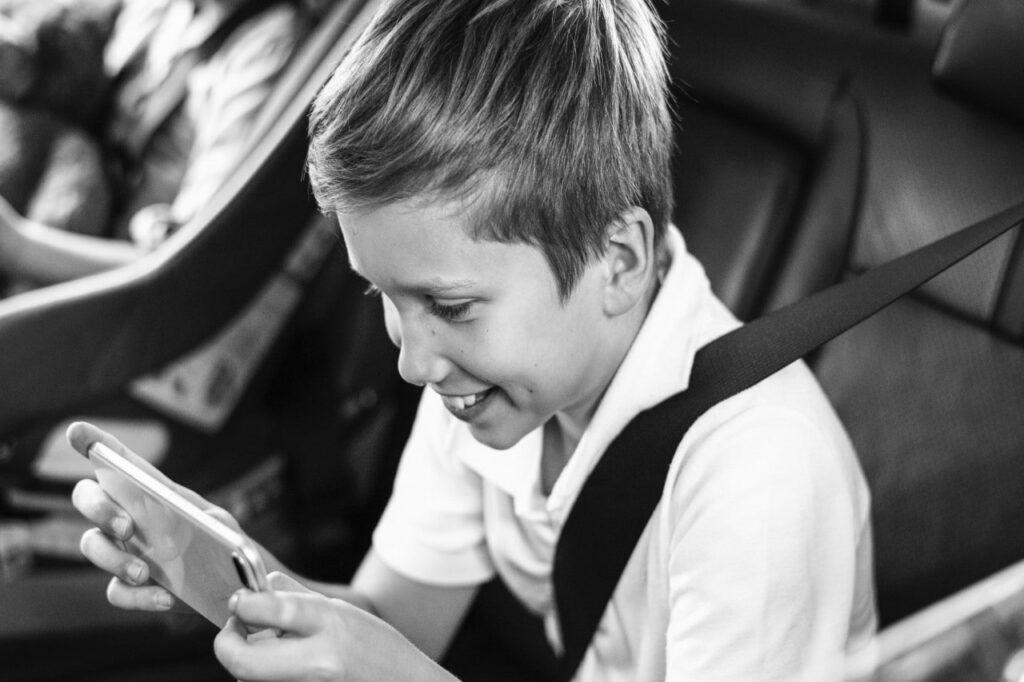 Children Glued to Smartphones
Children from even when they are babies are provided Smartphones these days by their parents. Mostly to keep them engrossed during feeding time, or when you are entertaining guests, or when you are eating out. Smartphones appear to be replacing the parent's time with their kids. But, is it safe to give your child unmonitored access? The answer is a big no. Your child may be watching a children's cartoon but, after the video you selected ends, they may be prompted by the site they are on to click on a very unsuitable video. Smartphones have become the biggest distraction to teenagers and children from studies and other activities they should be spending their time in.
Some Negative Impacts That the Online Smartphone World Can Have on your Child:
Heavy internet and mobile usage can lead to lack of concentration. This can affect awareness and lead to a weak focus.
Children get stressed trying to maintain proper communication with parents, teachers and friends online
Long usage of phones directly leads to low grades
Students fail to set goals due to lack of sleep and constantly checking their phone
Cyberbullying leading to depression, increased aggression, increased drug intake and even can lead to suicides
Children may fall prey to online sexual predators
You can see yourself the risk you may be putting your child in by giving them unfettered access to the online world via their Smartphones. There is a stark need to mark a line somewhere at the kind of information and interaction your child encounters online. Out of these needs was born the concept of the kids monitoring app. And one such app is Tispy.
Why and How you can Block Inappropriate Apps in Your Child's Smartphone?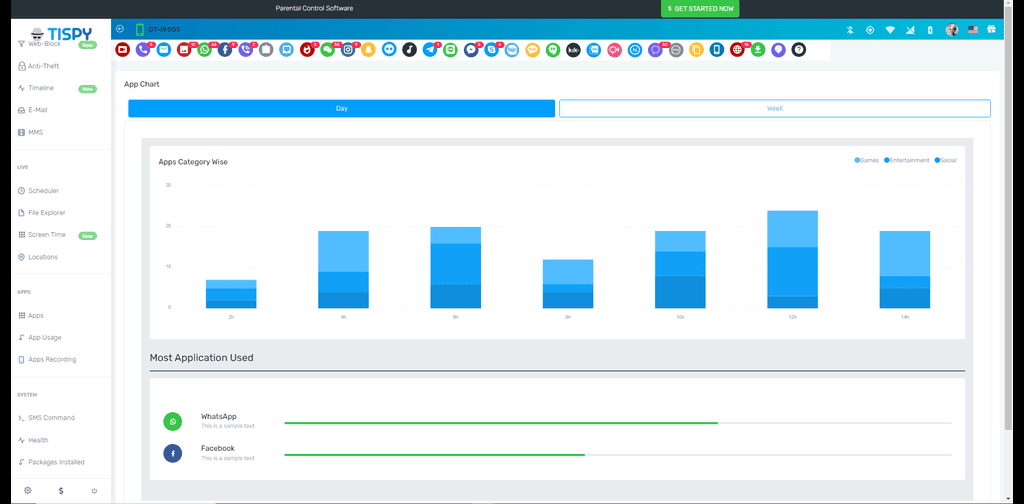 Your child may have accidentally or knowingly installed some adult apps on their phone. With these expose themselves to some very inappropriate content and people. Tispy lists all installed applications on their phone and also shows which apps are more frequently used by them. As a parent, you can block such adult applications in your child's phone from the Tispy dashboard.
Why and How you can Monitor Messages, Calls and Social Apps?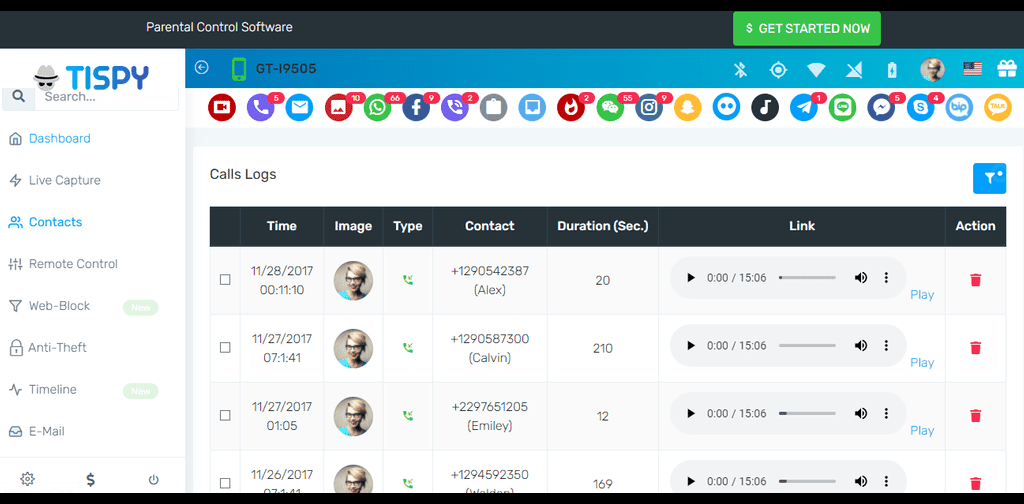 Your children may be misusing privileges from their smartphones by sending or receiving not permitted messages or by indulging in inappropriate activities on their phones.
Using Tispy Social Media Trackers, Social Media Trackers, you can monitor the most popular social networking accounts like WhatsApp, Facebook, Instagram, Zalo, Snapchat, Tinder, Viber, WeChat & much more. In addition you can also monitor Mails. You can learn what they are texting about and if their correspondences are safe and with safe people.
Tispy gives all incoming and outgoing calls on the dashboard. Tispy will also display contact numbers of caller as well as record how much time each call lasted. Also, if the number is registered under a name in the phonebook, you will get his name/image. You will also get call log details in your registered email address. The messages that are sent to and from your kid's phone are available to you in your Tispy account as and when they get generated. So even if the messages are deleted from their phone, these are still available for you in your account and are also sent to your registered email address.
Why and How you can Track Internet Usage and Online Activities on Your Kid's Smartphone?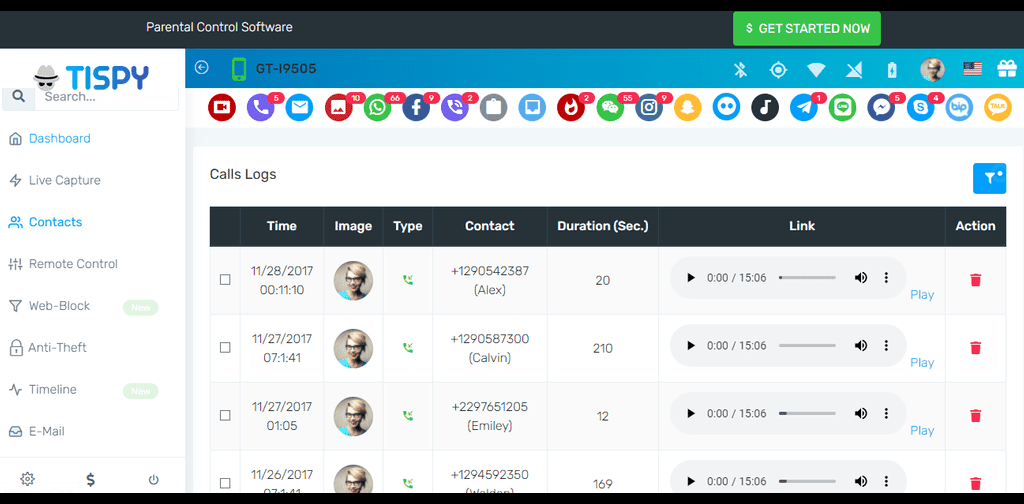 Your child may be visiting sites with violent or adult content. These sites may permanently scar your child for life. Or teach them things they are not old enough to know and are mostly misguided. Using Tispy, you can tell if your child has been viewing something they shouldn't be seeing. Tispy can let you know the websites visited, visited time and date.
Will Tispy solve all my problems?
Be Connected:You need to be involved in your child's life to facilitate their healthy development. Your kids should be able to rely on you to understand them. Work on communicating with them. So that they trust you enough when they are in trouble knowing that you will be there for them.
Let them know you will be monitoring their online activity:Before giving them, their first device, let them know you will be monitoring them online. Explain to them this is for their safety and security. Knowing you will be watching will inherently generate a sense of responsibility in their internet usage.
Limit screen time:Too much screen time is simply bad for your kids. So along with monitoring their activity, simply limiting the time they can be on their phones is the best thing you can do. Something to Think AboutOnly monitoring your child's online life will not solve anything. You need to be there for them in real life. Build mutual trust and understanding with your child. Only monitoring without an actual connection will not help. But if you work on building open communication with your child, monitoring your child's phone will become only an added precaution and not the sole way you can protect your child.
Smart measures to ensure safe device usage by your children.