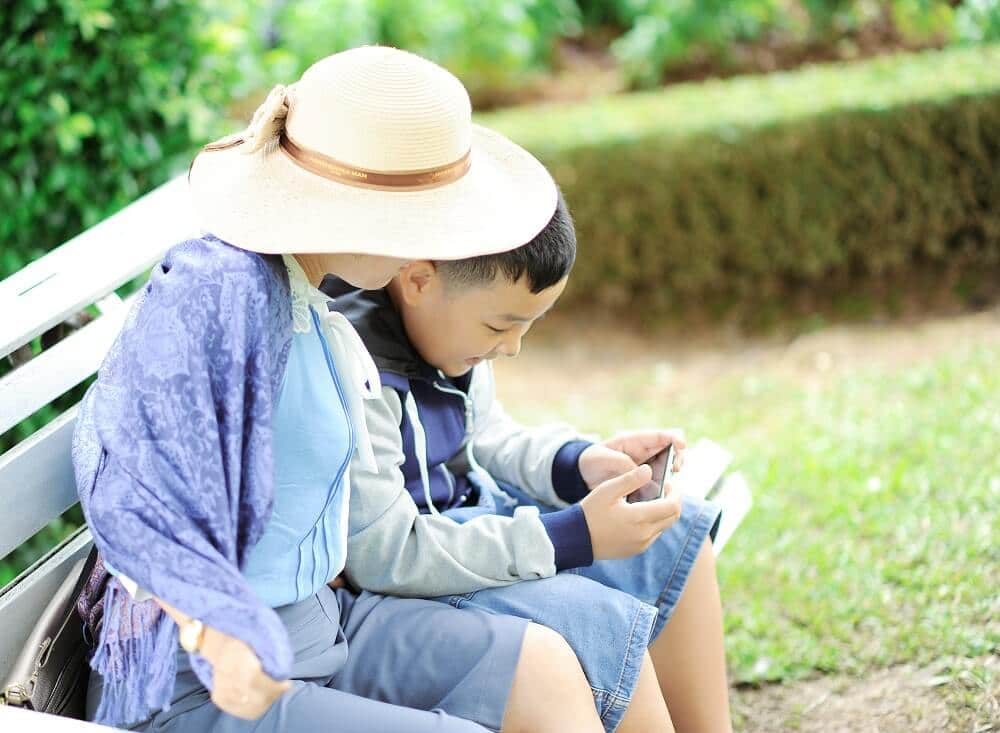 Social media is the most used platform by kids and teenagers these days. But it can also be risky as these are open platforms and everyone is allowed to use these as per their wish. In most of the cases, the kids don't always make good choices, when they are active on these various sites or post something or getting attached with all of these. This can lead to problems like cyberbullying and cybercrime. Most of the teens post their photos online or use their real names on their profiles without any fear. Not only these, but they also reveal their birthdays, interests and many details about their lives. These help to make them easy targets for the online predators and others who want to harm them anyway. Here is a complete guide on social media for kids with the dos and don'ts on the social media networks.
Teach your children about social media
Social media has also been a distraction for kids from their studies. And instead of ruling out the use of smartphone, there are many interactive ways to control Kids smartphone use while studying as well. If you are a parent, you must discuss with your kids about what should they post online and what not. You also have to make it clear that they should treat others with respect, and tell them not to post any hurtful topic or embarrassing messages. Sending a mean-spirited text, memes, and even any lame joke can be very hurtful to someone else. So the kids must be aware of this. You have to let them know that posting any inappropriate photo can damage the reputation and that can cause a disaster a few years later. You have to tell them about those advanced apps which automatically reveal the user's location. The kid must know about the cons of it. An honest and open discussion regarding all these will ensure the safety of your child. Through this, you will also get to know whether they are hiding anything from you or not.
Keep an eye on your kid's online action
Online safety for kids is very important to all the parents. Online dangers like cyberbullying, sexting, online predators and a simple online thief can also harm your children. You just have to think that how you can prevent your baby from all these traps. The parents have to take necessary actions to create a distance from all these negativity to secure their child's life. It is a responsibility of the parents to help their kids to know about both of the good and bad side of the internet and social media. Using a parental control app like TiSPY will surely help you protect your child from any kind of harassment and involvement in any type of suspicious activities.
Need to use parental control software
Using good parental control software like TiSPY can really help you to keep a watch on the apps which are used by your children. TiSPY is the best way to monitor your child's activities on social media. This parental control software helps to give you a more detailed view of the social networking activities of your child. Moreover, if you use TiSPY, you will be able to track every point which could be easily missed without this app. This is the best social media tracker. Thus, installing quality software like TiSPY is one of the first steps that you need to take in the matter of checking the app which is used by your children.
TiSPY offers the best social media monitoring. It provides you –
Track Hike Activities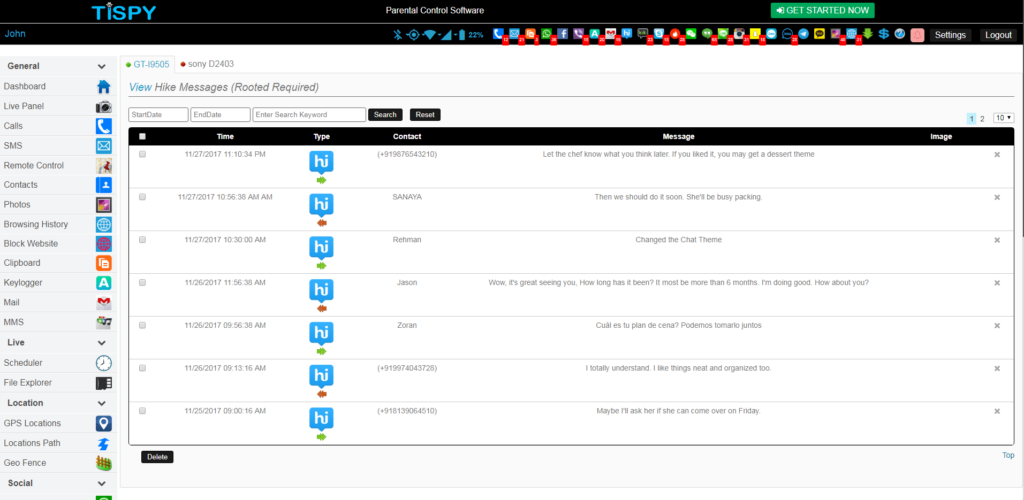 Hike is a social media messenger app that is getting very popular recently. The main attraction of the application is the animated stickers which the teenagers love to use instead of typing text messages. As great as the app seems for teen's point of view it also offers features like hidden and lock mode where the users can hide chats and protect it with a password. But now parents don't need to worry. They can easily see all the chats that their kids have on a hike using the TiSPY parental control software. With TiSPY, you can check all the chats and multimedia sent or received via HIKE. You can also check the name and number of sender and other details like time and date stamps very easily and instantly through hike spy tool. Hike has around 100 million registered users and TiSPY plays the best role as hike online tracker.
Kik Spy Tools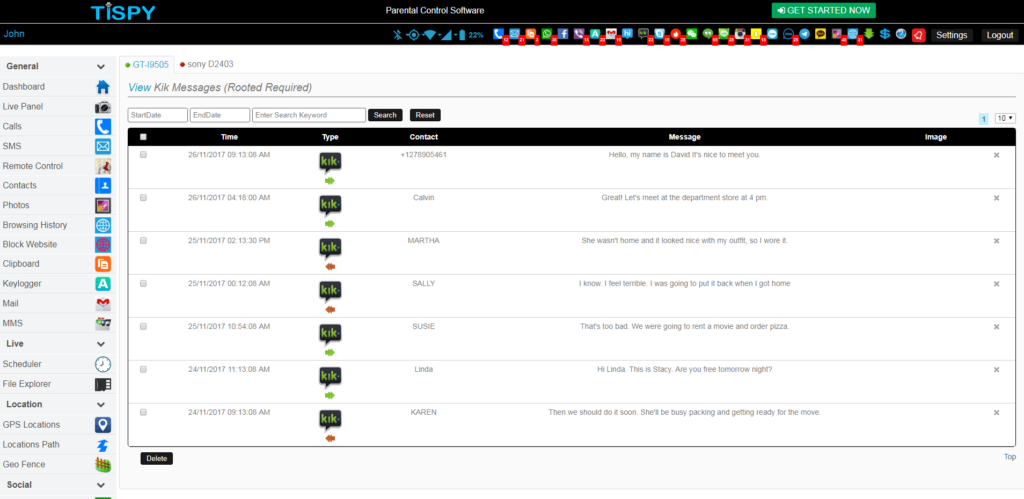 Kik Messenger had around 300 million registered users. It is also stated by a recent study that it was used by approximately 40% of United States teenagers. The Kik messenger app allows the users to interact with GIFs which is a new way of expressing oneself in teens. It also allows users to chat with strangers with similar interests. This is something that sounds very fascinating for teens but it can be risky and very dangerous for kids as well. The TiSPY Kik Spy lets you view all the KIK chat conversations that sent and received through the targeted phone. With TiSPY KIK tracking feature and kik spy tools, you are being able to get full control on KIK activities of your child.
TiSPY is known as the best parental control app available worldwide, which is specially designed for the guardians and parents to monitor their kid's online activities and control them before they become the victims of any online harassment.
TiSPY parental control app is available in three several packages with the most popular: Premium, Basic and Standard plans. It's the best solution for you to save your kids from any kind of online harassment and cyberbullying.
Smart measures to ensure safe device usage by your children.