5 Effective Ways to Control & Monitor Online Activities of Kid's Smartphone at Bedtime
In the world of technology advancement, kids have outsmarted their parents. Kids have been using smartphones for purpose of schooling, playing addictive video games, and to have a conversation on social media through Instant messaging applications. The continuous popping of social media updates has forged smartphone addition among them which does not let them concentrate on their education. The Addiction has also turned them nocturnals affecting their sleep cycle. Insomnia has become a common problem among modern generation kids.
As per National sleep foundation, It is recommended to have 10 hours sleep cycle for 14-17 aged teenagers, and 9 to 11 hours of sleep for the pre-teens. Pre-teens usually use smartphone late night for gaming and perform online activities on social media jeopardizing their sleep. Sleep is essential for every human being as insomnia can create an imbalance in the biological clock like metabolism and overall health, so it is better to maintain a good sleep cycle.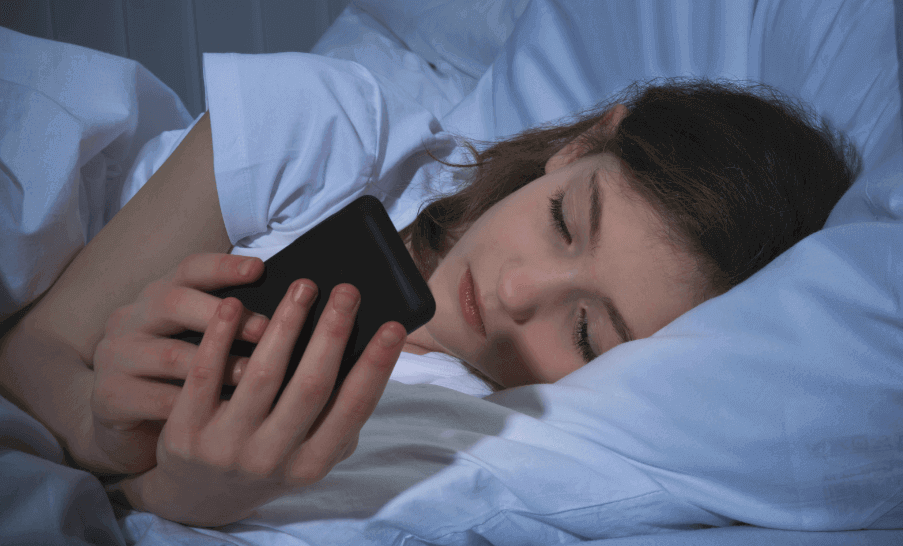 Parents allow children to have their playtime but the problem prevails when the freedom becomes a liability. Most of the teenagers spend a lot of time on social media exceeding the ground rules. This worries their parents regarding the online safety during late night online activities on smartphone and incurs a bad adaptation. Parents can use TiSPY parental monitoring software to monitor all the activities performed by your child on the smartphone.
How Tispy control kids smartphone activity at bedtime
1) Monitor IM applications
TiSpy helps parents to monitor IM applications on both rooted and unrooted smartphones. It allows tracking of all the incoming and outgoing messages on instant messaging applications like WhatsApp, Facebook, Hike, Skype, Twitter, Mails and more. These messages can contain images, personal details, bank details, etc which could easily be monitored and read by TiSpy. Even if a user deletes all the previously shared messages and images, it can easily be retrieved as they get stored in the TiSpy dashboard. All the stored information like last login time, receiver's details etc will be shared with TiSpy's registered email account. In late night it might be possible that your teens are doing chats on some online dating apps and sleeps very late. TiSPY also allows you to track messages of Tinder and other important IM Apps.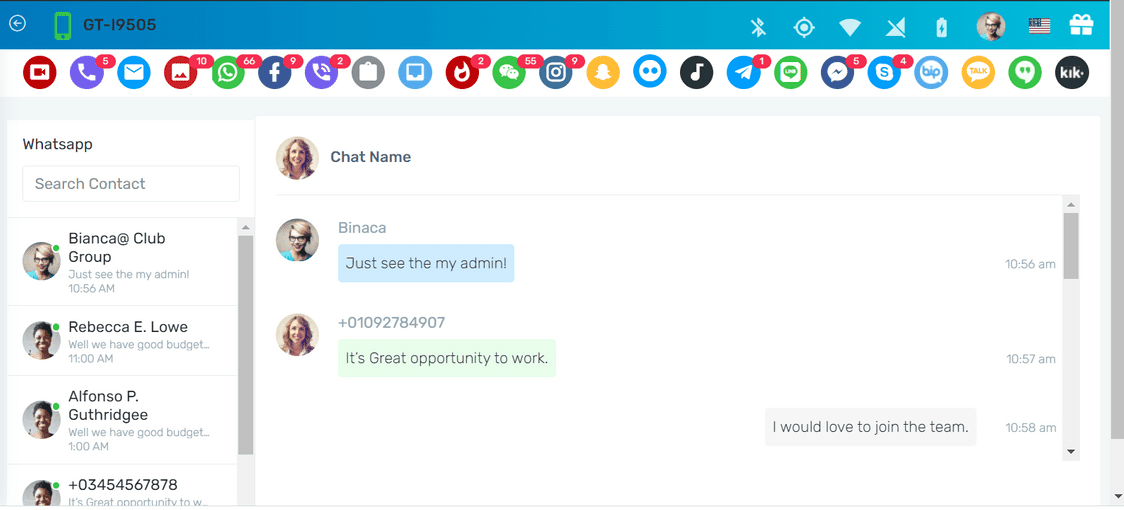 2) Monitor Internet Usage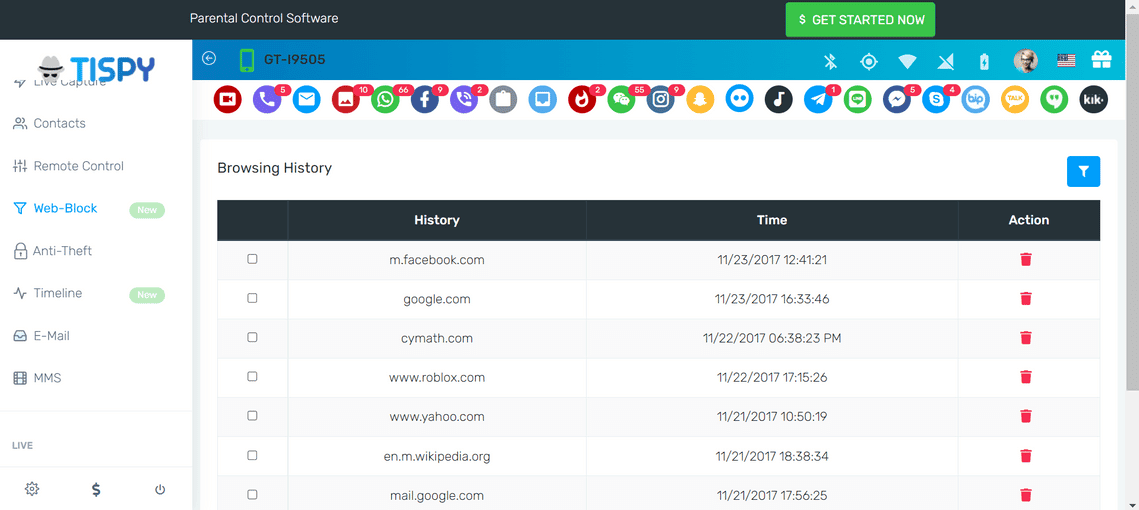 Parents can check all the recent URL logs and control mobile phone usage with the help of TiSpy parental software. It keeps a record of all the URLs and websites which were accessed through the mobile browser. If the browser history is deleted intentionally, it gets automatically saved by the parental software. It also monitors total time spent by the user on the internet. It is one of the prominent features of this software.
3) Block Pornographic content and Website
Kids easily get exposed to pornographic content while surfing on different websites. Sometimes IM applications also advertise them mistakenly which could turn into an addiction lately. TiSpy gives this privilege to the parents to block application, website where such advertisements to appear on the smartphone through the dashboard. It also blocks other inappropriate content to appear on the kid's smartphone which could encourage child abusing for amusement. The TiSpy parental software also identifies all the bait laid by the predators on the internet which could result in cyberbullying. Overall, it promotes a safer browsing experience for your kids keeping them apart from potential threats.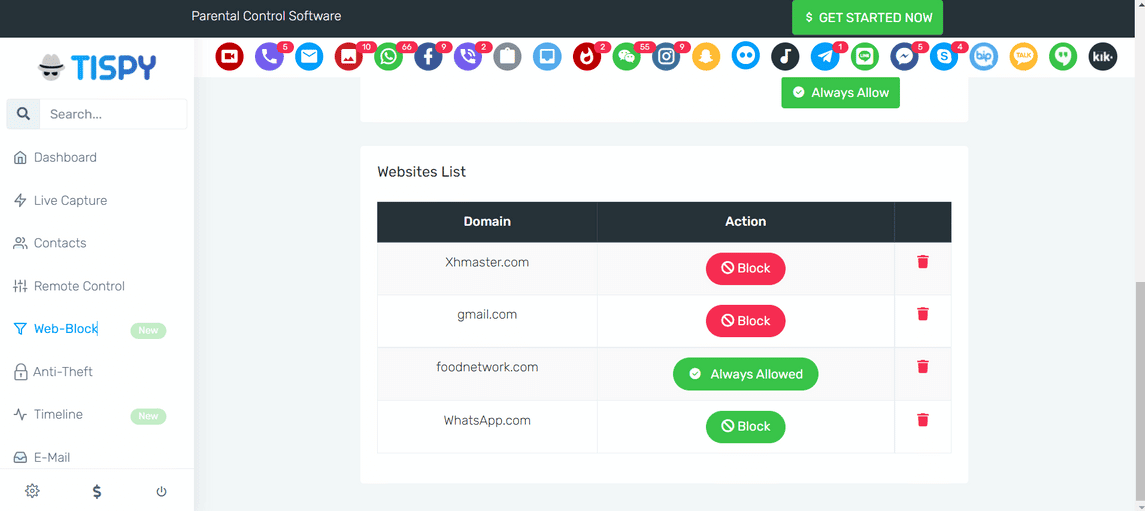 4) Control Applications and Contacts
This software helps to monitor all the installed software on the smartphone. It determines which applications are mostly been used by your children and list them. It also detects and control applications installed from unknown sources and cease their working on the phone. It detects and blocks all the dangerous gaming and dating applications on the smartphone which could be leaking your kid's personal information online. It regularly syncs all the added and deleted contacts on the phone and maintains a record of the daily call log. It checks all the incoming and outgoing calls, messages with online phone directory and blocks all the spammers. It also has advanced features like One-click access, Email Alert with Summary, Specific Location, Alert on Sim Change.
5) Keystroke Logger
Keystroke logger of TiSpy is a free software with advancement like real-time data synchronization. This means whenever a key is pressed on the target smartphone, it is immediately featured on the dashboard. This feature comes handy when there is an interruption made by software like VPN. It will also track the important information like passwords, contents on various apps and other information.
Conclusion:
Teenagers and pre-teens get exposed to the harmful light of the screen. Most of the children get addicted to their smartphone and TiSpy child monitoring software tries to reduce this grown temptation. Considering Sleep an essential part of the health, it helps to cultivate a daily habit to adopt a proper sleep cycle. TiSpy provides premium quality & cost-effective service to their customer promoting a safe surfing environment. The software has advanced features like Text Copier, Health Monitor, Calendar Events Tracking, Scheduler, Location Tracking & Geo Fencing, etc. It has an absolute software to use on track child's smartphone without letting them know. This will help you to monitor and direct them to a better future.